John Michaloudis
Chief Inspirational Officer
G'day, my name is John Michaloudis and I am the founder of MyExcelOnline.  I'm in my late thirties and I am currently living in the North of Spain and I´m married and have two beautiful kids (Mikel & Ánne).
I hold a bachelor's degree in Commerce (Major in Accounting) from La Trobe University in Melbourne, Australia and speak English, Greek and Spanish.
You could describe me as a football lover, wine & beer drinker, food indulger and occasional gym goer.
How MyExcelOnline Began
My journey in to Excel began after I graduated from University and have since helped many of my colleagues around the world – during my 15 year stint as an accountant & financial controller in Avon & General Electric – understand this underutilised but powerful tool called Microsoft Excel!
During my time working at General Electric I started an internal blog and within 12 months I had over 10,000 employees sign up to learn Excel from me.
This was the LIGHTBULB MOMENT for me!
I saw first-hand the need from professionals who needed to understand & learn the various features of Microsoft Excel to help them in their job so they can become more efficient.
I decided to leave the "Corporate World" and start MyExcelOnline where I could teach the rest of the world on a much grander scale how to use Excel effectively via my free blog tutorials, podcast shows, webinar trainings and online courses!
MyExcelOnline Exists to Support YOU!
The readers and subscribers of MyExcelOnline is what drives me to keep on learning Excel and share this knowledge with YOU, so you too can STAND OUT FROM THE CROWD!
They come from a variety of professional backgrounds from all the corners of the world!
Whether you are an Excel newbie, beginner, intermediate or advanced user, you are bound to learn from my resources and get better at Excel within days!
I'd love for you to join me and my community of 80,000+ other Excel users who want to advance their career by receiving our Free Weekly Excel Lessons on Formulas, Pivot Tables, Analysis, Charts, Power Query, Macros plus MUCH MORE!.
JOIN TODAY & DOWNLOAD OUR AWESOME EXCEL KEYBOARD SHORTCUTS TEMPLATE – FOR FREE!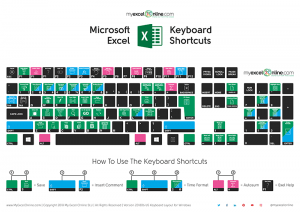 CLICK HERE TO JOIN FOR FREE