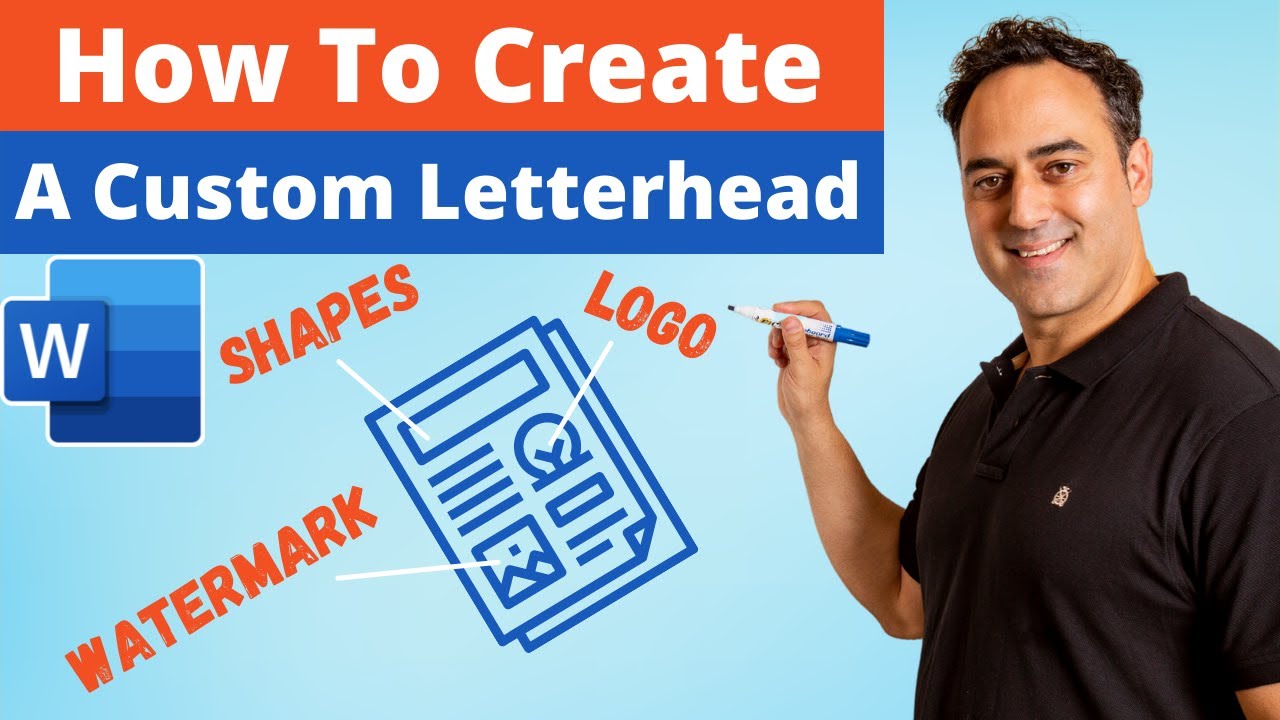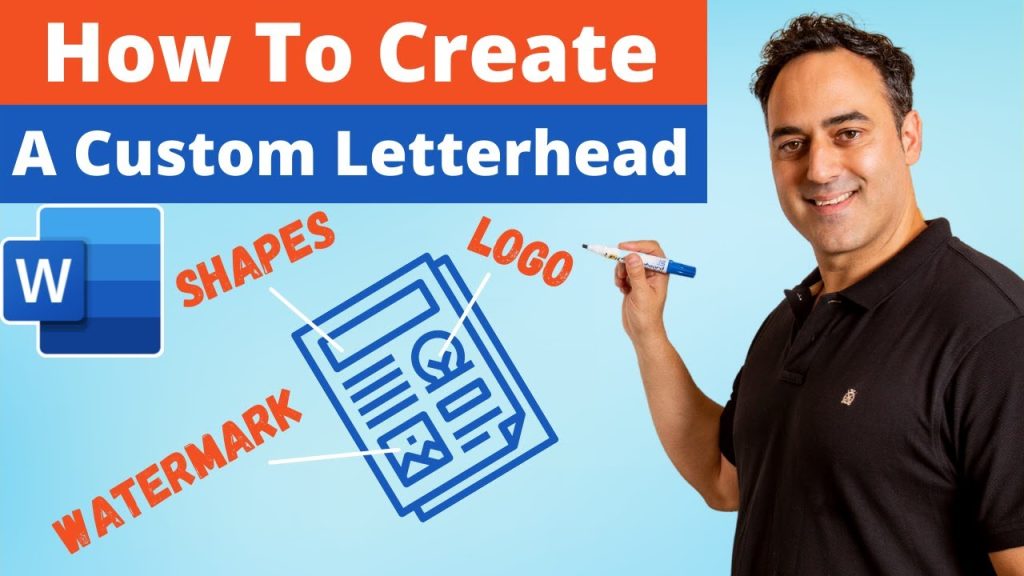 Letterheads have become an integral part of conveying information, especially in corporate situations. A company's brand identity is shown by its letterhead.
From logos and basic information to custom graphics, a letterhead grasps the attention of the recipient and creates a recognizable identity for the company. Letterhead can also have used for personal reasons.
The layout of the letterhead can easily be modified for corporate or personal use.
Letterheads can be used for various different reasons like:
Sending invoices to clients and customers.
Recording the minutes of a meeting.
Sending offer letters.
Sending personal invites like wedding invitations.
So let us see how you can make your custom letterhead in Microsoft Word!
Watch it on YouTube and give it a thumbs-up!
You first need to identify what elements you need to insert into your letterhead. Some of the commonly used elements can be :
Let us now explore how to insert a watermark on your letterhead. A watermark can be a sign of validity, showing confidentiality and restricting the copying of sensitive information.
You can easily follow the steps below to insert a watermark:
Go to Design.
Click on Watermark.
Here you will be presented with preset watermarks, mainly used to protect your data. You can also insert your own watermark by clicking on Custom Watermark.

In the pop-up window, check the Picture watermark box, and click on Select Picture.
Browse and select the picture you want as a watermark.
Once you have completed all the steps, you will see that your selected picture will be visible in the background of your Word document.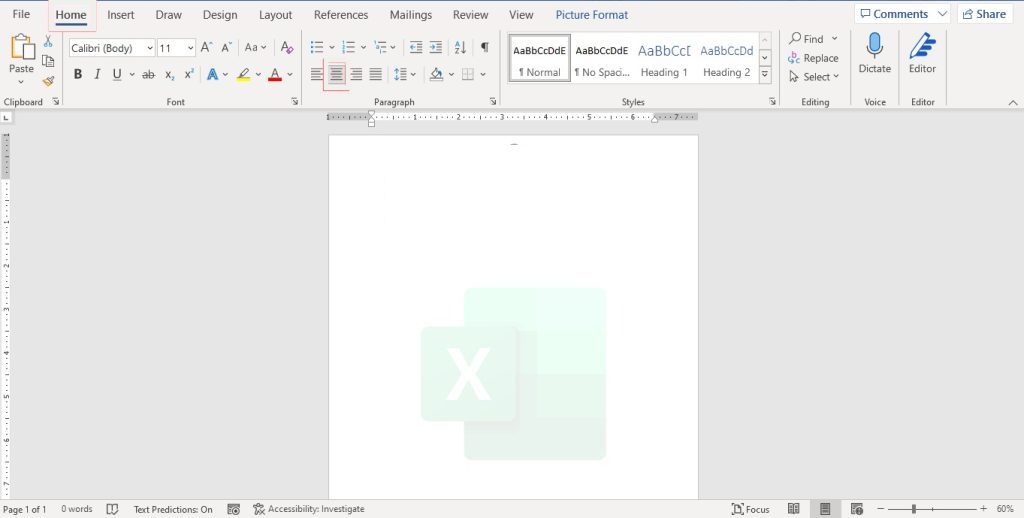 The logo immediately catches the eye of the recipient. It is really simple to add a logo in MS Word. Let us see how!
Go to Insert.
Click on Pictures.
From the pop-up window that opens, browse and select your logo.
Now you can stretch the logo by dragging it from the corner.
Aesthetics play a very important role in letterheads. You can easily grasp the attention of the reader with your letterhead by inserting a few graphic elements.
For that, it is better if you match the colors present on your letterhead to the colors present in your logo.
Let us see how you can get the exact colors in your logo:
Picking Color in Paint
Go to File > Open. Browse and select your logo.
Take the tool cursor to the color you want to pick and click on it. You will see that Color 1 is filled with the color you picked.

Now if you want to insert this exact color on your letterhead, you can easily duplicate the red, green, and blue values and get the same color.
Inserting Shapes
A simple way of adding graphic elements to your letterhead is by using shapes. MS Word offers a variety of different shapes that you can fill with color to brighten up your document. Let us see how you can insert shapes into your letterhead:
Go to Insert > Shapes.
Under the Shapes drop-down menu, you can select whichever shape you want. Let us go with a simple triangle.

Now let us see how to add color fill to our shapes.
Select your shape and go to Shape Format.
In the pop-up box, under the Custom tab, choose the Color model as RGB.
You can copy the shape by selecting it and pressing Ctrl+C. Press Ctrl+V to paste the shape.
You can also rotate the shape by clicking, on the circular arrow on top of the shape, and dragging it. Since we have selected a triangle as our shape, we can fit four triangles into the four corners of our letterhead.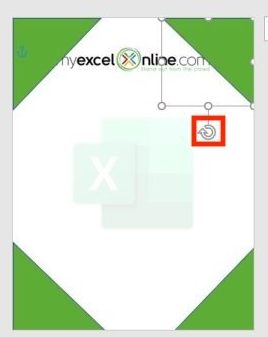 Now you will see that the shapes have the same colors as present in your logo. You can also add other shapes like rectangles and insert more graphical elements to your letterhead and give it a clean and attractive look.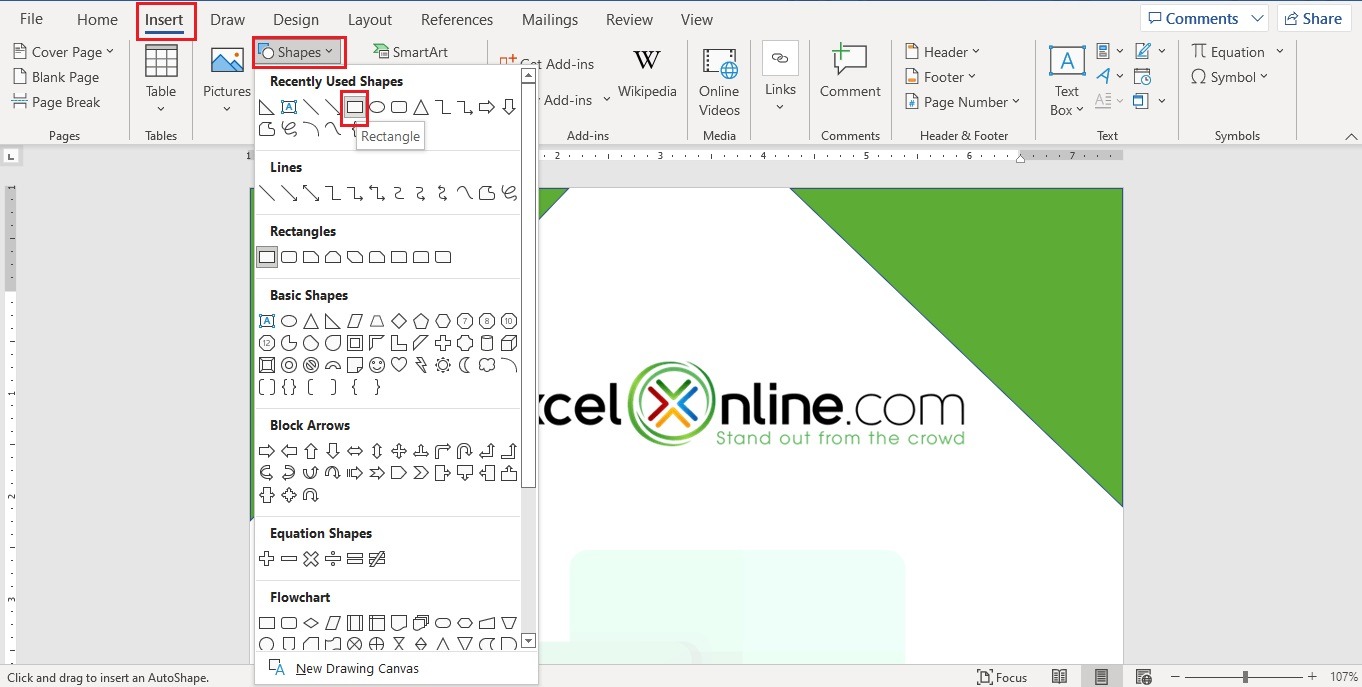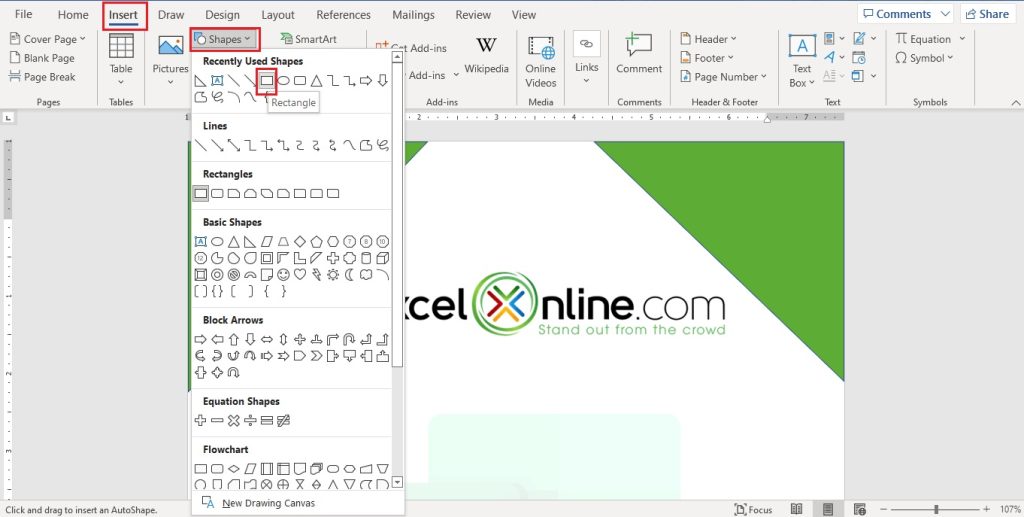 You can add color as per the logo color scheme to enhance the final output of the letterhead.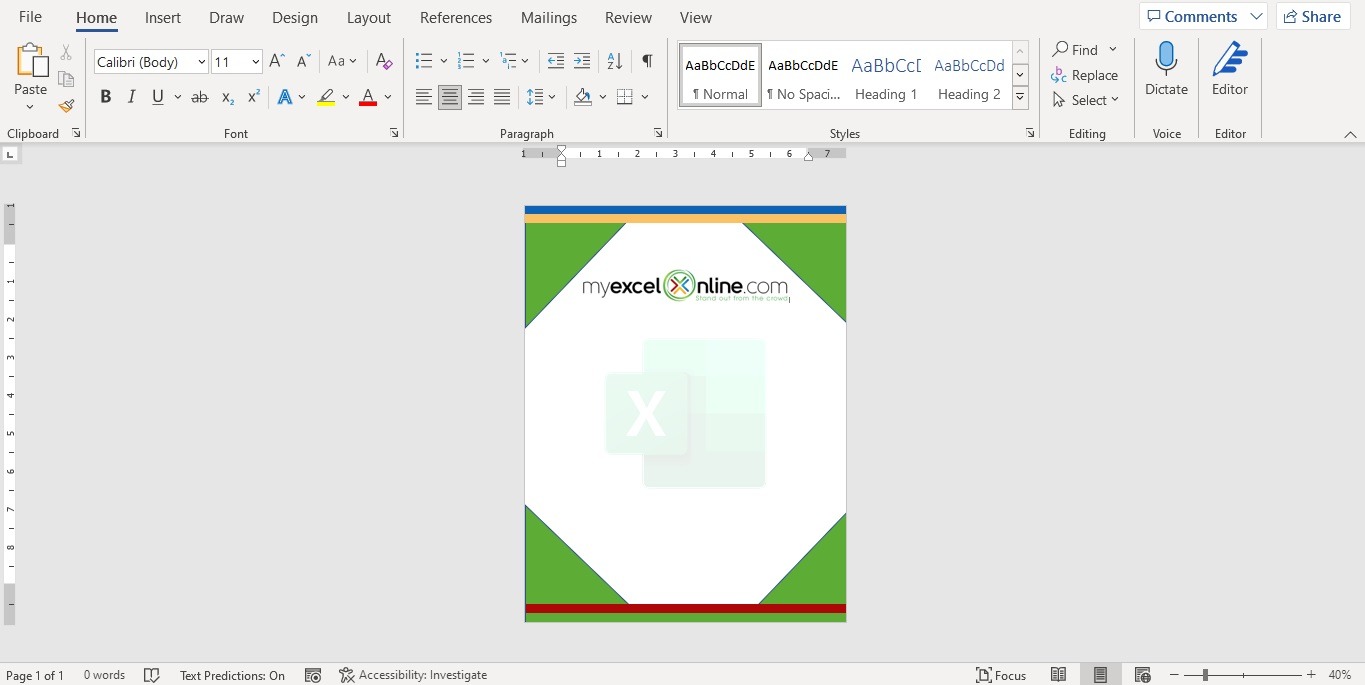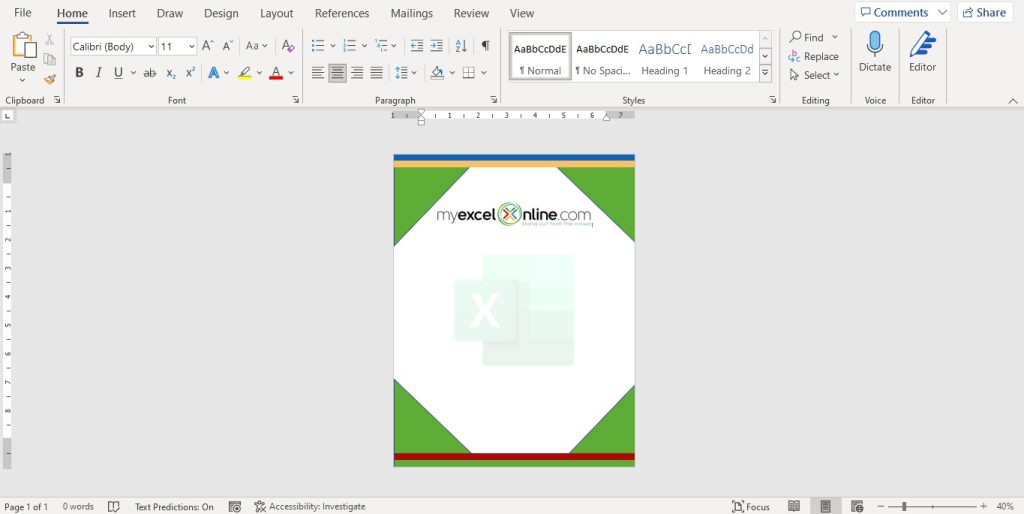 QR Code
Inserting a QR code into your letterhead will provide the recipient the ease to simply click a photo of the code and go to any links that are encoded in it.
You can, for example, redirect the person to your website via your QR code where they are able to view information about your company and how to your contact details. Let us see how to insert a QR code in MS Word:
Go to Insert.
Click on Pictures.
Under the "Insert Picture From" list, select This Device.
From the pop-up window that opens, browse and select your QR Code.
You can reduce the size of the code by dragging it from the corner. Now you can drag and place the QR Code wherever you want on your letterhead.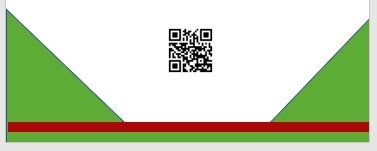 While you can certainly just start typing on your letterhead, inserting a text box is more flexible and will not mess with your layout. Furthermore, you can easily drag your text box to place it wherever you want.
You can add a text box by following the steps below:
Go to Insert
Click on Text Box. Under the drop-down list, select any text box you want and just start typing.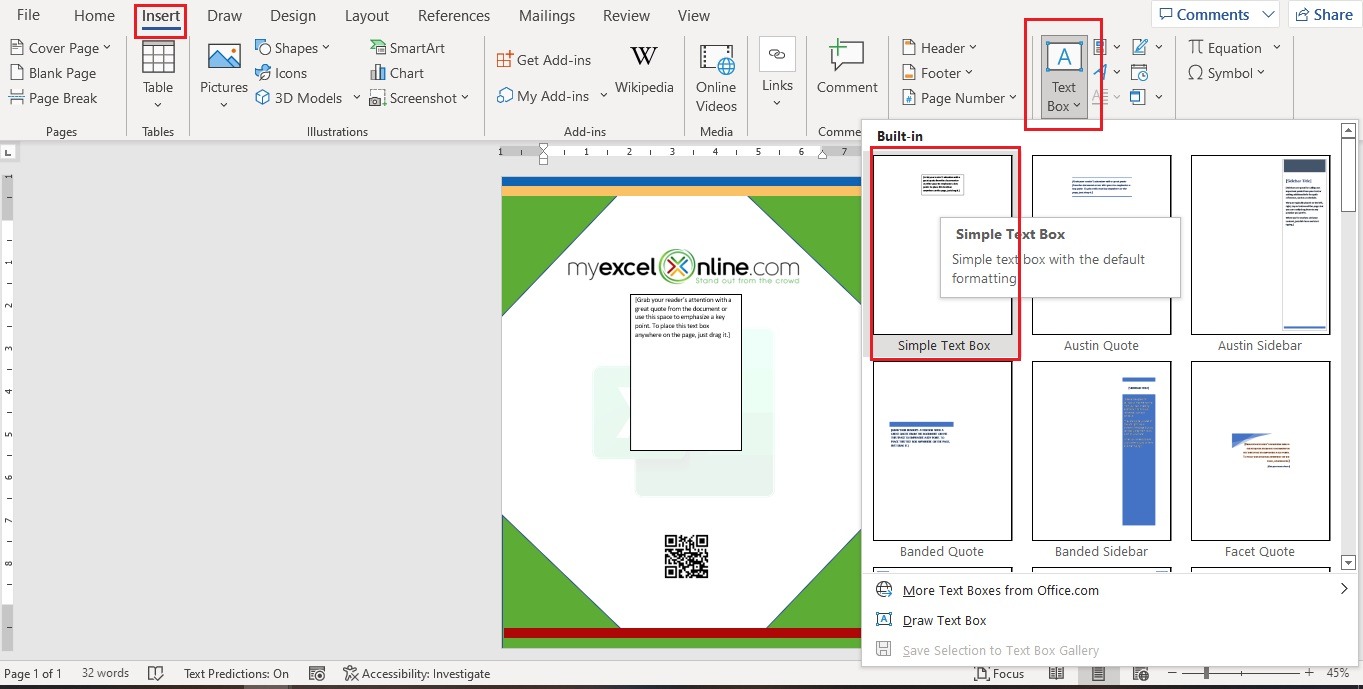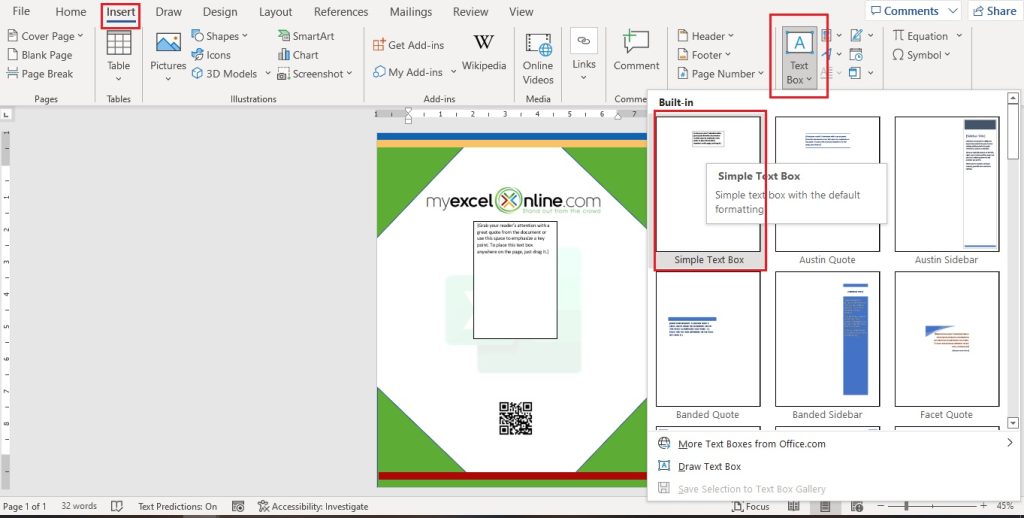 Hopefully, this article has given you a headstart on creating your own letterhead. You can add or reduce the different elements explained here while creating your custom letterhead.
You can always come back to this article in case you want to revisit any concepts!
Click here to download 101 Free Word Templates that you can use and customize!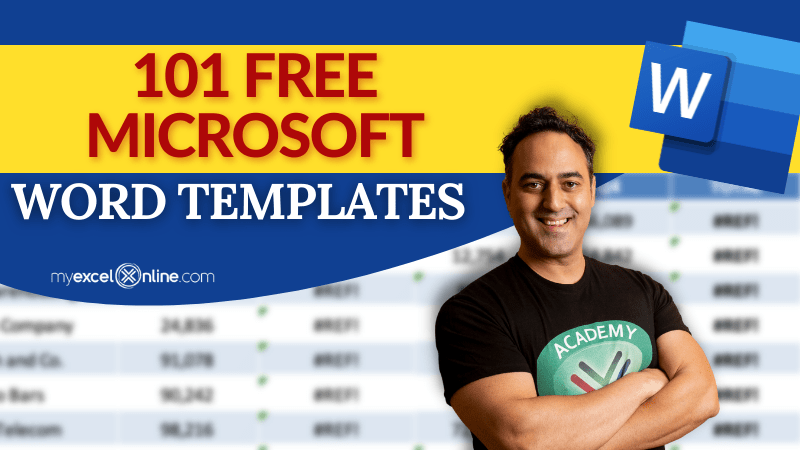 You can learn more about how to use Excel by viewing our FREE Excel webinar training on Formulas, Pivot Tables, and Macros & VBA!