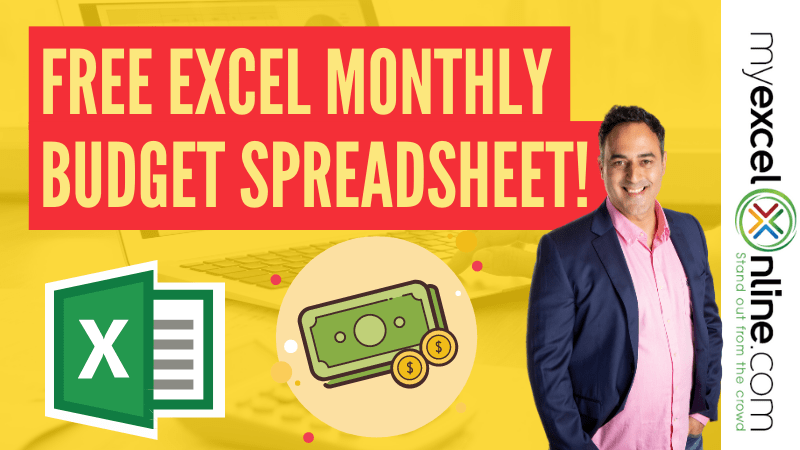 The basic principle of any budget is to keep your expenses lower than your income and you will be never running out of money. But following this, in reality, can be quite a task.
A simple solution to this is to use an Excel budget spreadsheet!
A Budget spreadsheet template can make the process of financial allocation simpler and help you gain visibility into your finances.
Just put in values in a few cells and Excel will calculate the rest for you!
This Free Budget Spreadsheet can be used to keep your finances intact. You need to plan your savings and spending goals so that you never run out of money at the end of the month and keep your wife or boss happy.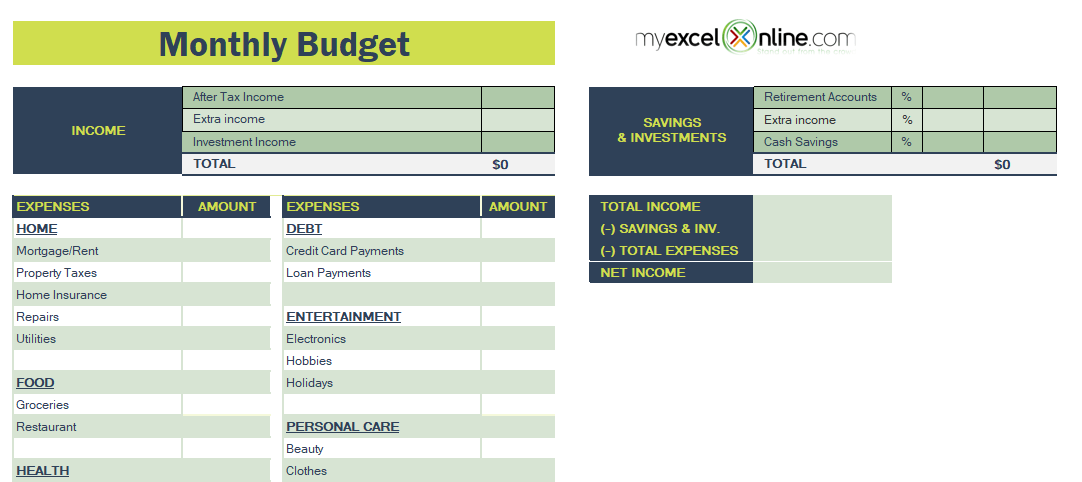 You can easily manage your money with this free Excel template and you will never exhaust your funds and enter into a debt hole.
The steps followed in this FREE Excel template are:
Let's look into each of these steps one-by-one!
Download this Excel workbook and follow this tutorial on how to make a budget spreadsheet in Excel:
DOWNLOAD EXCEL WORKBOOK
Step 1: Enter your Income
Begin using this template by entering the different sources of your monthly income.
For a person with a salary, simply enter your monthly salary (post-tax) and income from other part-time jobs or passive income streams.
If you have your own business but the income is not constant, you can take an average of your past 6 months and enter that amount.
For example, you can enter a salary income in cell F4 – $5,000, extra income from part-time jobs in cell F5 – $850, and income from investments in cell F6- $500.
The total income will automatically be calculated and displayed in cell F7 – $6350.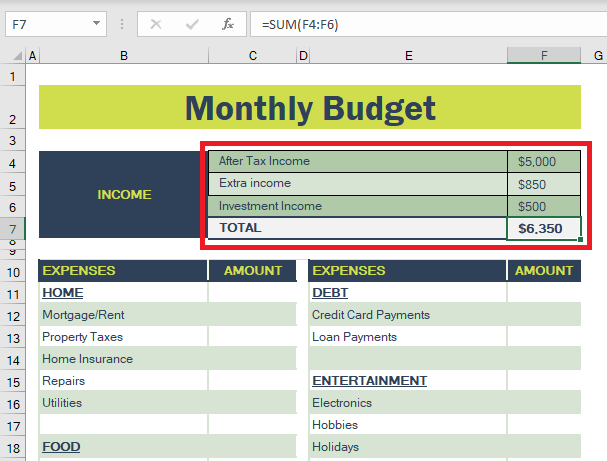 Step 2: Enter your Saving Goals
Next, you should plan your savings for different purposes based on your income and expenses.
You need to determine the amount you wish to put aside for different milestones in the future. Enter the percentage of your income you want to save.
The amount in dollar terms for each Saving & Investment and the TOTAL savings amount will be automatically calculated in Excel.

Step 3: Enter your Expenses
The next step would be to list down where you spend your money each month.
In the Expenses section, there are different categories mentioned like home, food, health, transportation, debt, entertainment, personal care, etc. The best practice would be to put in place money for these expenses so that you are prepared for it.
Enter amounts for each of these expenses.
Excel will automatically calculate the percentage allocation for the expenses categories and the TOTAL monthly expenses as well.
Once all these values have been entered, your summary table will be ready too!
It will provide you with the amount you are left with i.e. NET INCOME,  after taking into account your savings goal and monthly expenditure.

Step 4: Repeat & Revise
In the end, all you need to do is repeat the same process each month and take into consideration any new savings goals or expenditures you may encounter in the future.
That's it! Your monthly budget spreadsheet is prepared.
But, you need to remember that this is a continuous process and you need to make necessary additions and revisions as and when required.
Conclusion
Excel is the go-to tool for planning and tracking your personal and business finances. Using this Excel template, you can easily manage your finances and make your financial health a priority.
Check out all our other Free 141 Excel templates here.
Helpful Resources:
Make sure to download our FREE PDF on the 333 Excel keyboard Shortcuts here: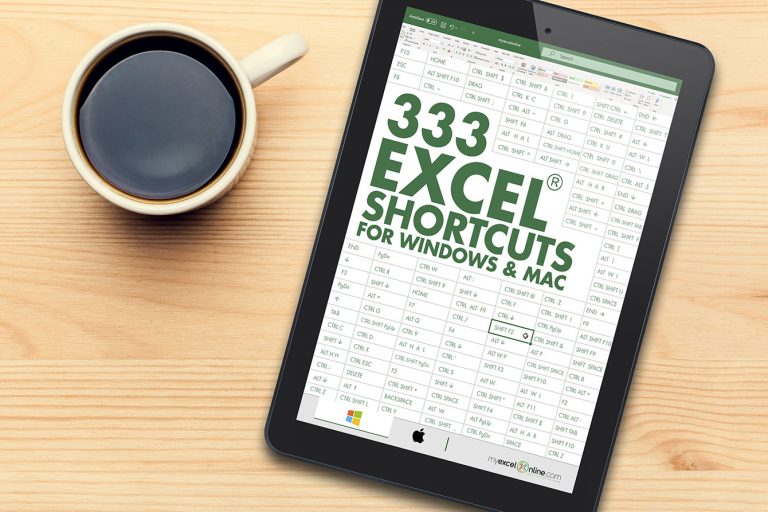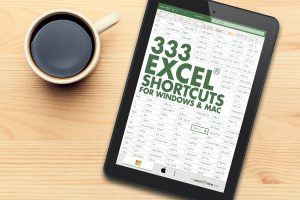 You can learn more about how to use Excel by viewing our FREE Excel webinar training on Formulas, Pivot Tables, Power Query, and Macros & VBA!
Click here to get various other time-saving Excel spreadsheet templates (provided by Microsoft) for budgets, inventory, schedules, Gantt charts, timelines, and more.