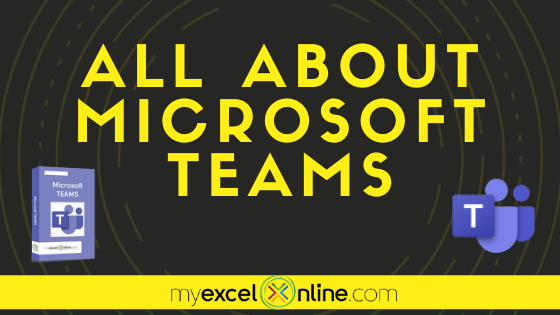 What is Microsoft Teams? This is an awesome software from Microsoft where it focus on these 3 Cs:
Colleagues
Content
Conversations
It is all about collaborating with your team members & workplace with Microsoft Teams. It is your hub for teamwork in Office 365. Working from home has never been easier and we will show you a quick overview on how to use Microsoft Teams in this tutorial.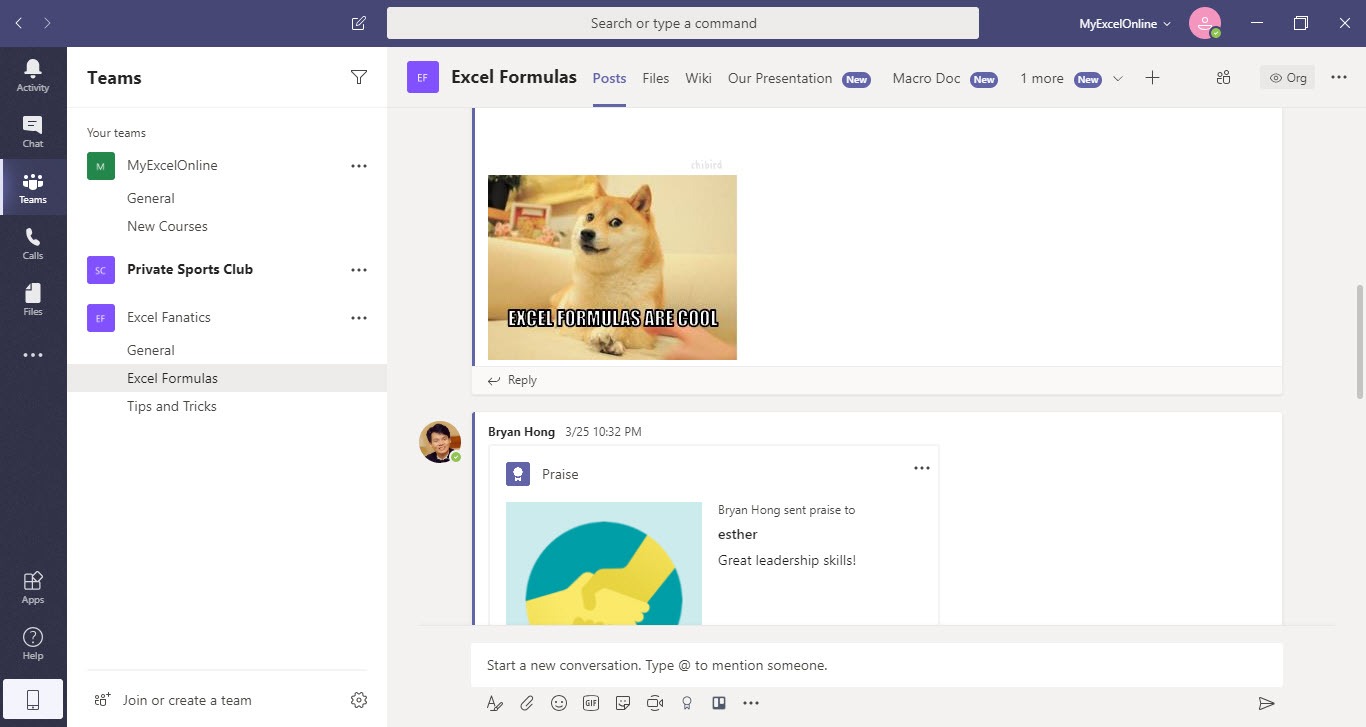 Here is the full list of what we will cover:
Learn What Is Microsoft Teams In Just 1 Hour!
*** Watch our video on how to use Microsoft Teams below and downloadable our Free Microsoft Teams Cheat Sheet to practice ***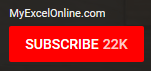 Below we have created a FREE downloadable PDF cheat sheet and a full list of the what you can do with Microsoft Teams!
Download it, print it and put it beside you to remind you of the amazing things you can do with Microsoft Teams.
Share it with your friends and colleagues as well and they will thank you for it!
Download Our PDF Cheat Sheet On How To Use Microsoft Teams below…for FREE!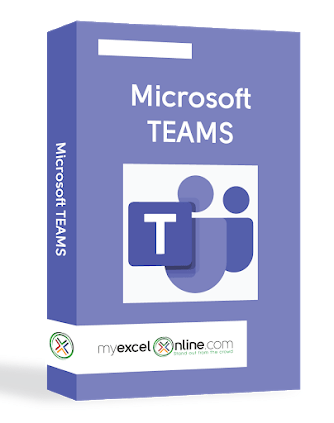 Teams and Channels
First of all you need to sign up and create an account for free for Microsoft Teams using this link here.
Then to download Microsoft Teams, get it here.
To understand what is Microsoft Teams, we need to talk about the foundation blocks of Teams and Channels.
If you work with a project team and continually communicate with them, then forming a Team will be a perfect fit for this.
Inside Teams, you can create Channels to segregate topics that you want to cover.
Here are the things you can do inside Teams:
1. Select an existing Team
2. Select a Channel inside a Team
3. Manage settings, add channels and make changes to the Team
4. Add more tabs and apps to the Channel
5. Start a conversation inside the Channel
6. Join or create a team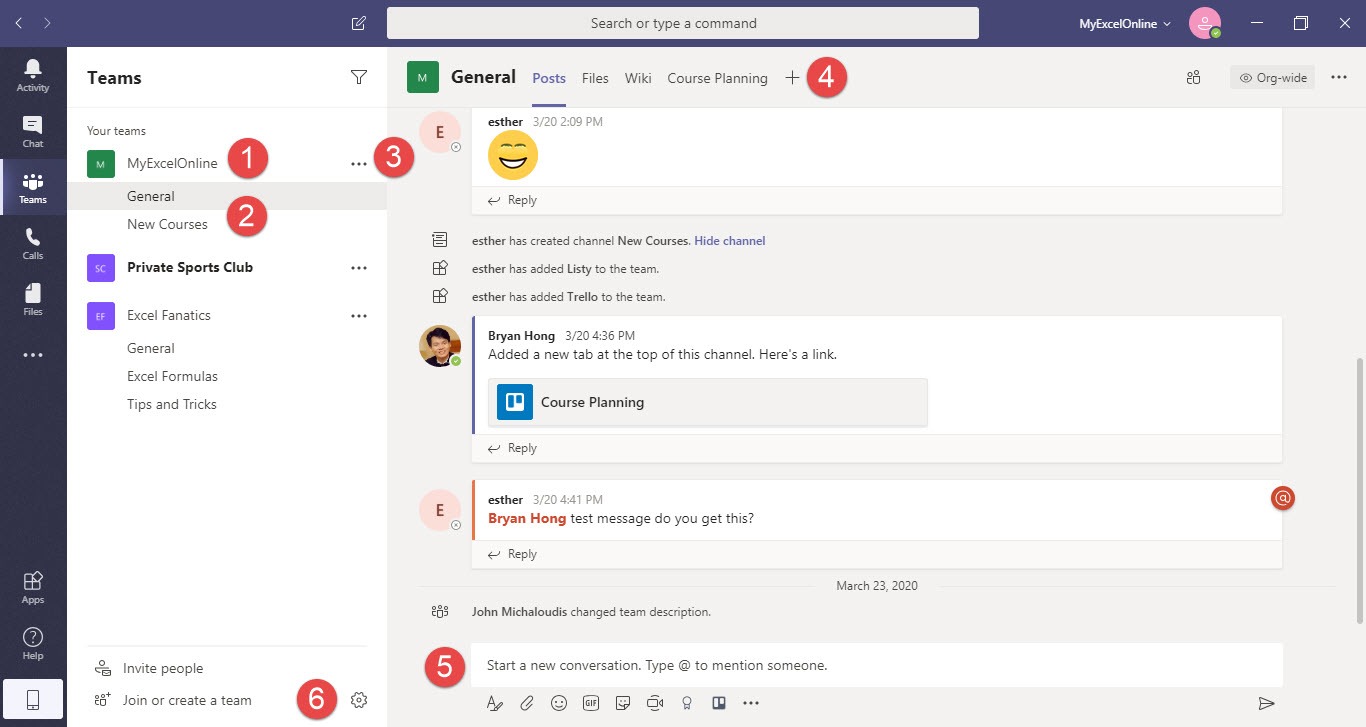 Chat
Chat is an area wherein you can have direct messages with specific people or a smaller group of people. There are a lot of things you can do inside Chat:
1. Start a new conversation
2. Write a message to the person(s) you are conversing with
3. Start a video call, audio call, or screen sharing session
4. Add more tabs and apps that you and that person use frequently
5. Filter messages inside the chat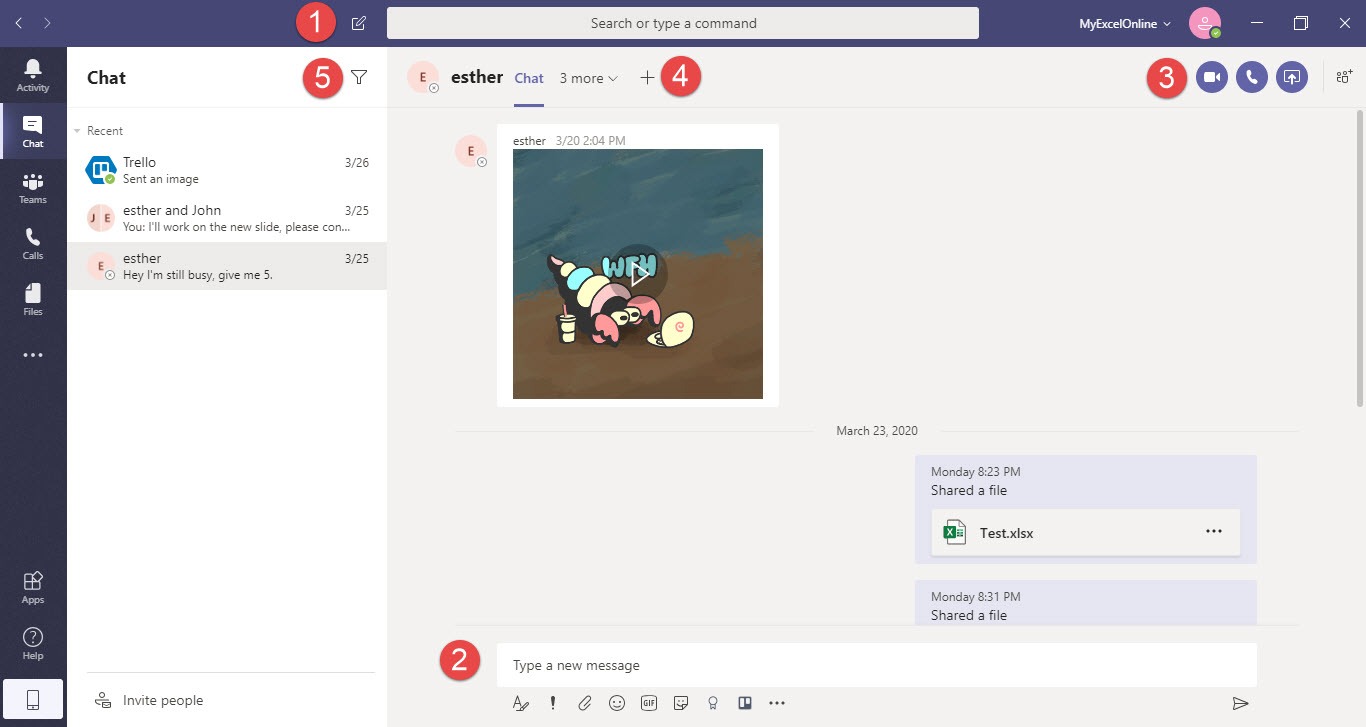 Files
We primarily use OneDrive inside files. And when you share files within Channels or Chats, you can conveniently share the files inside your OneDrive as well. These are what you can do:
1. Open your OneDrive storage
2. Add, Edit, Delete files inside your OneDrive storage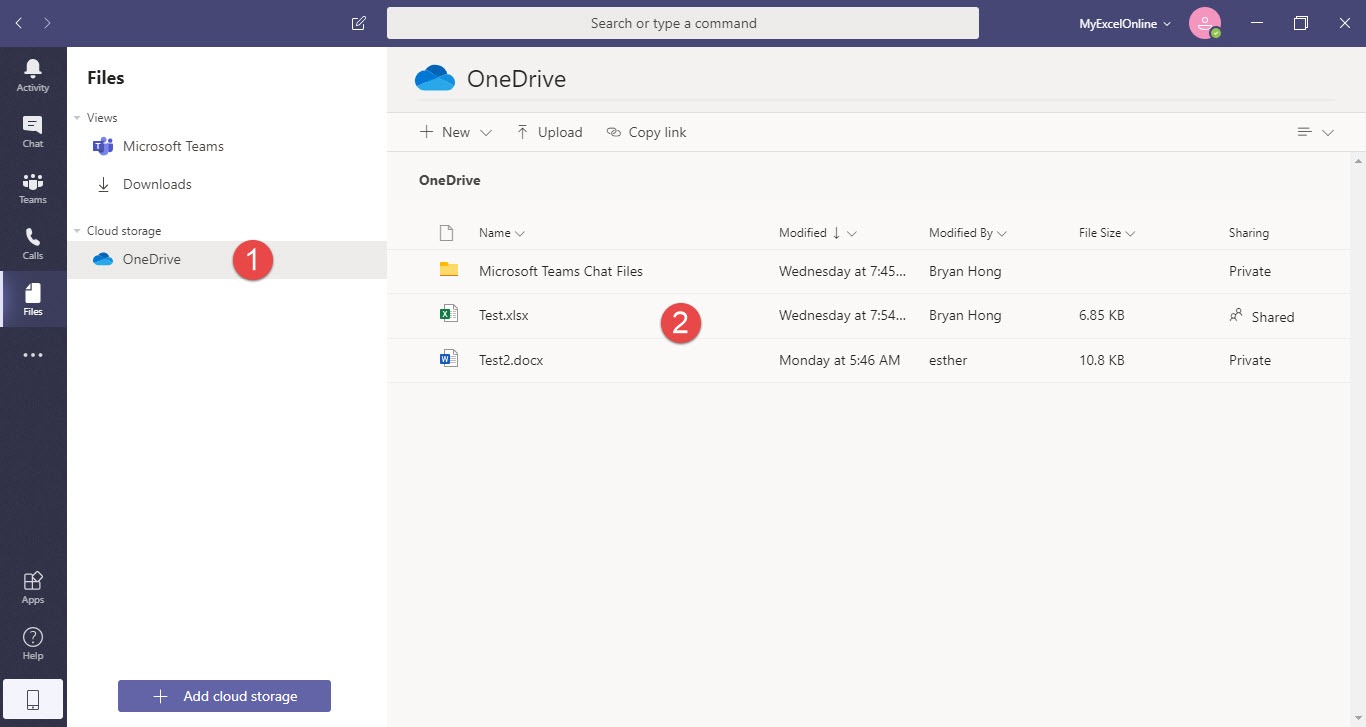 Calls
Calling is very much integrated inside Teams. It is similar to how you use your phone: contact list, voicemails, the works. Here's a quick list of what you do:
1. Add contacts to your contact list
2. Start a chat, email, audio call, or video call your selected contact
3. You can access the following here:
Speed dial – quick dial the selected contacts you have placed here
Contacts – like a phone book, modify your list of contacts here
History – a quick history of everything that happened with calls
Voicemail – check your voicemails here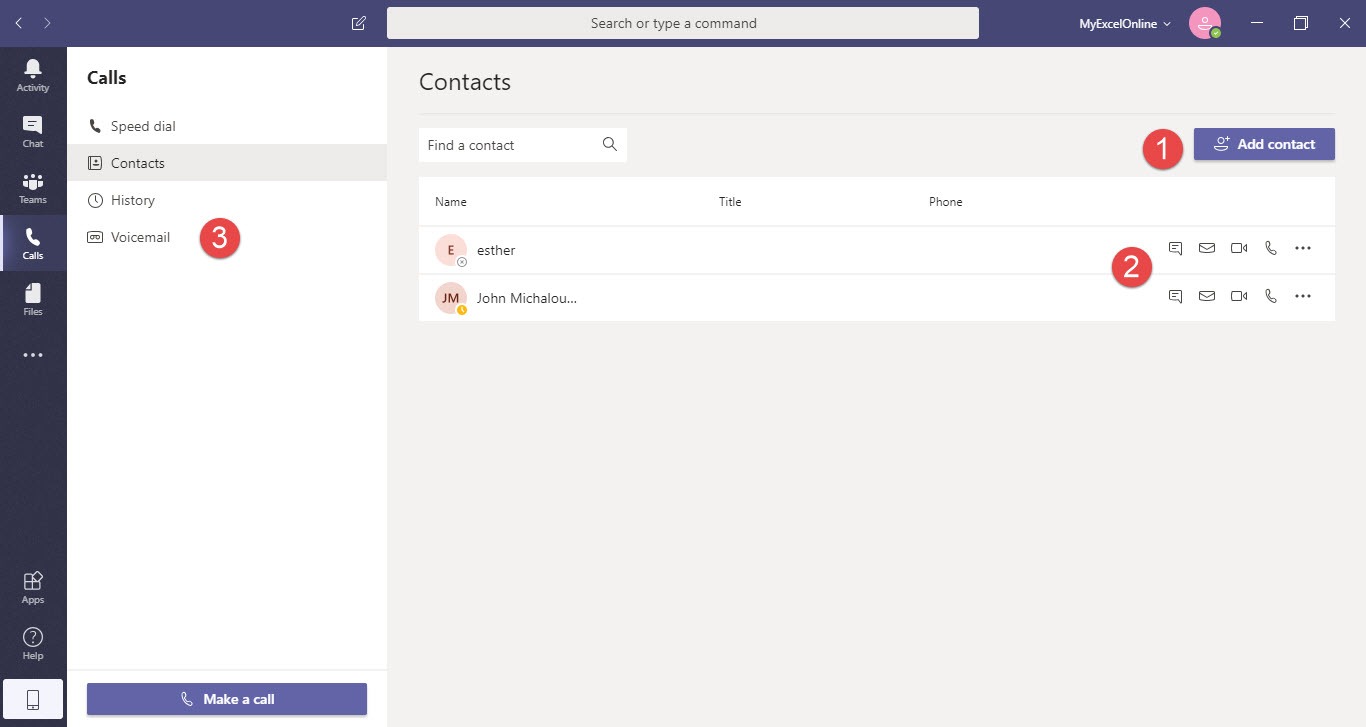 Activity
The Activity section shows everything that happened that would be of interest to you. It's a mix of mentions, reactions, calls, voicemails, and other events happening inside Microsoft Teams that are related to you. Here's a quick list of Activity functionality:
1. Filter out events inside your Feed
2. Switch to My Activity – to see what you have done inside Teams
3. Click on specific events in your feed to see details
Profile and Search
You can update your profile and your status inside Teams. If you work in multiple organizations, you can use the same account to switch to a different Microsoft Teams environment.
The search bar is very flexible and allows you to search for messages, people, and files. You can also perform commands inside it. Let us have a look on how to make the most of this:
1. Search for messages, people or files
2. Click on this to open Profile and Settings
3. Switch organizations if you have more than one
4. Set your status
5. Open Settings to configure Microsoft Teams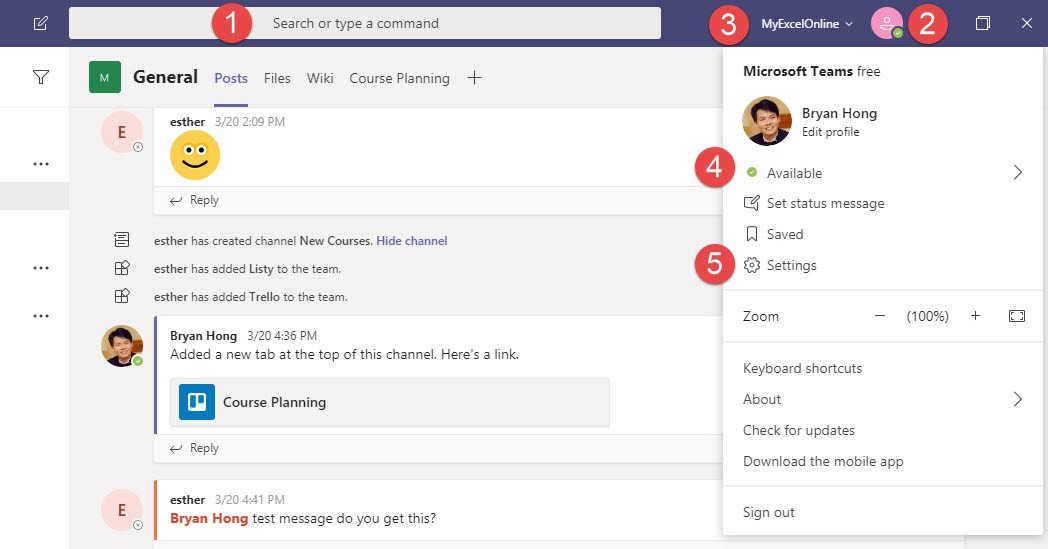 Settings
This is where you can modify the inner workings of Microsoft Teams. Let us go over a quick overview of each settings section:
1. General – Change themes and main application settings (e.g. startup)
2. Privacy – Manage priority contacts for DND (do not disturb) exemptions, read receipts
3. Notifications – Manage notifications to Teams events
4. Devices – Manage audio devices and the camera
5. Permissions – allow access to components in your device (e.g. location, camera, microphone, speakers)
6. Calls – modify your ringtone and manage voicemail settings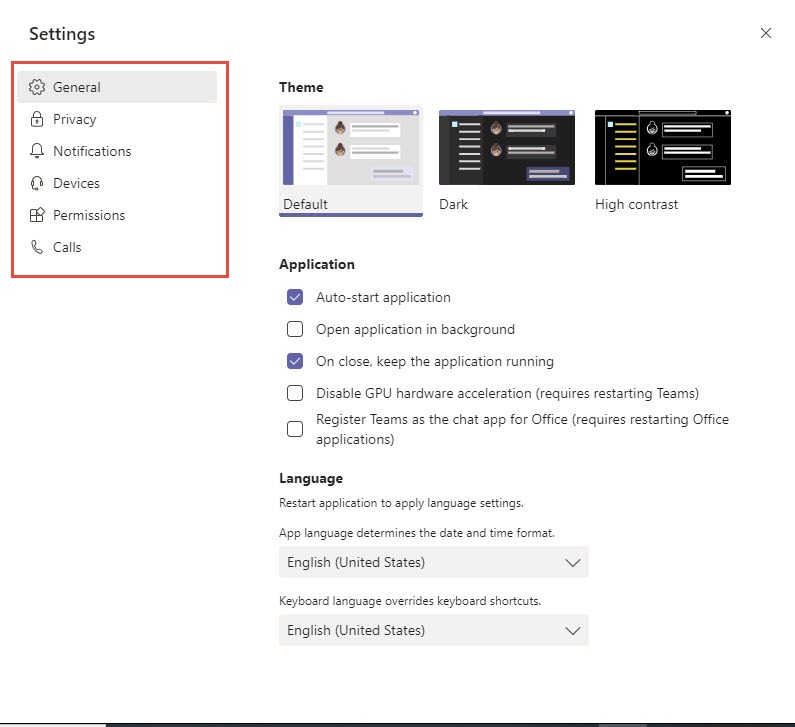 Mobile Apps and Other Microsoft Teams Resources
Our overview does not end here, there are a lot more tidbits when it comes to using Microsoft Teams! Here are some quick links that you could use for jumpstarting your Microsoft Teams app experience:
The best part is both of these are free to download and use. I use the Microsoft Teams app a lot with my team so that I can collaborate with them while I'm on the go!
Another resource that I want to share to you is the Demo Teams Office website. This is a wonderful site to give you a sneak preview of how Microsoft Teams would work. It is not a fully functional teams website but it is enough to give you a good idea on how working with Teams would feel like. Check it out!
For more training materials, you can have a look at the Microsoft Support website. There is so much more to explore about Microsoft Teams: OneDrive, Outlook, Video Conferencing and so much more, you name it! One of the things I love about MS Teams is it allows me and my team to work inside a single application as it does a very good job at integrating everything that you need inside.
If Microsoft Teams does not work out for your needs though, you can easily uninstall Microsoft Teams in a few steps. Here is the official Uninstall Microsoft Teams tutorial.
Download Our Microsoft Teams PDF Cheat Sheet below…for FREE!