Wingdings is a symbolic font that a lot of us use for fun. I do that a lot too! But what if we wanted those cool symbols to be of good use in Excel?
Whenever I tried typing using the Wingdings font, I was not sure which symbol I would get!
I will show you how easy it is to pick a cool Wingdings Symbol and use it in your Excel worksheet!
Here is a sample usage of a Wingdings symbol for stock prices:

I explain how you can Use Windings Symbols in Excel below:
STEP 1: Select the cells that you want to place the symbols in:

From the Font dropdown, select Wingdings: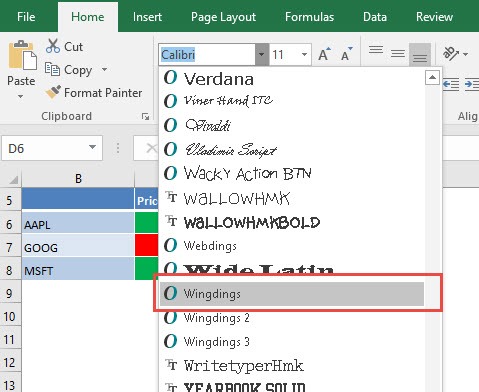 STEP 2: Now that our cells are able to accept Wingdings symbols, go to Windows Start (Windows 10) > Search Bar > Character Map
If you are have an older version of Windows, go to Start > All Programs > Accessories > System Tools > Character Map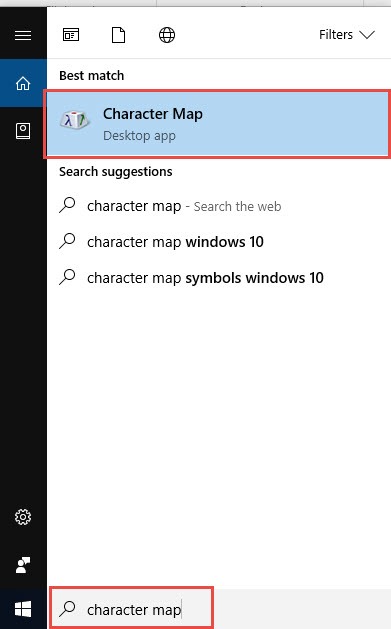 STEP 3: You will now see all the characters!  Ensure the Font is Wingdings.
Double click on the symbol you want to use. Click Copy.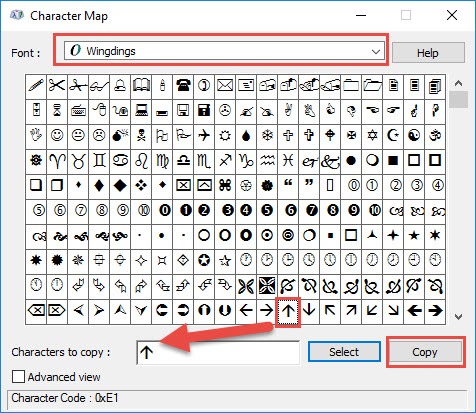 STEP 4: Go to your Excel Spreadsheet and click Paste.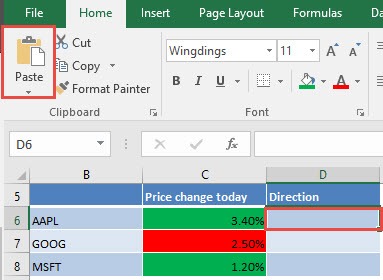 Do the rest for the other cells, and you have used Wingdings Symbols!

NOTE: Another way is to click in a blank cell and go to Insert > Symbol > Font: Windings > Insert > Close.
How to Use Windings Symbols in Excel
HELPFUL RESOURCE: