Want to know how to use the 5 Most Used Excel Formulas and Functions?
*** Watch our video and step by step guide below with free downloadable Excel workbook to practice ***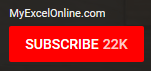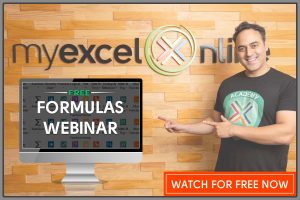 Below you will find many Excel formula examples for key functions like VLOOKUP, INDEX, MATCH, IF, SUMPRODUCT, AVERAGE, SUBTOTAL, OFFSET, LOOKUP, ROUND, COUNT, SUMIFS, ARRAY, FIND, TEXT, and many more.
Click on any Excel formula link below and it will take you to the free example tutorial & downloadable Excel workbook for you to practice!
3D 
And
Array 
Array, Lookup 
If 
If, And 
Iferror 
Iferror, Vlookup 
Index 
Index, Match 
Indirect 
Left 
Len, Length 
Match 
Mathematical Formulas 
Mod 
Multiple Criteria, Vlookup 
Offset 
Percentage 
Pivot Table, GetPivotData 
Proper 
Rand 
Randbetween 
Reference 
Sort 
Sortby 
Substitute 
Substitute, Trim 
Subtotal 
Sum, Lookup 
Sumifs 
Sumproduct 
Text 
Time