An Icon Set is a Conditional Formatting icon/graphic that you can include in your cells or Pivot Tables.
The icon will depend on the cell´s value so you can highlight key variances or trends.  There are a few icon sets that you can include, like:
DIRECTIONAL (Change in values)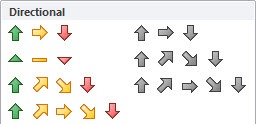 SHAPES (Milestones)

INDICATORS (Positive/Negative)

RATINGS (Scores)

I show you how easy it is to insert an Icon Set within a Pivot Table that will show a "directional icon" depending on the change of the monthly sales values.
So when monthly sales increase from the previous month, a green up arrow is shown and when monthly sales decrease, a red down arrow is shown.

 HELPFUL RESOURCE: