There are times when you receive a data set of employee full names in one column and you want to separate the full name into first name and surname in separate columns.
One way is to use the Power Query method, which is great if you have lots of data that gets added each day, week or month and simply want to Refresh your Query to get the output needed each time.
If you want to quickly split a cell's full name into separate columns on an ad-hoc basis, then the Text to Columns is the way to go.
STEP 1: Highlight your column's data that has the full names
STEP 2: Go to Data > Text to Columns

STEP 3: In Step 1 of 3 you need to select the Delimited button and press Next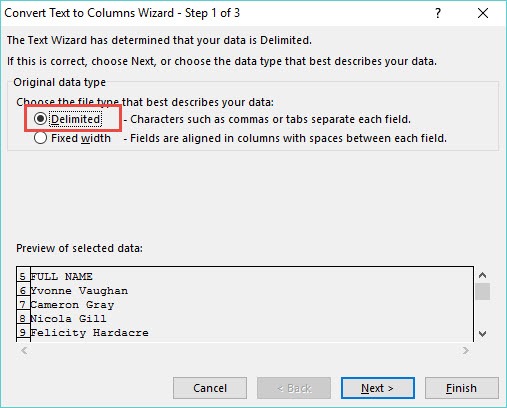 STEP 4: In Step 2 of 3, you need to "check" the Tab and Space boxes and press Next
STEP 5: In Step 3 of 3 you need to press the Finish button
This will split the column into two columns, separating the first from the second name.  You can go ahead and change the column headings to get the following result: