When you are showing 12 month sales results using a Line Chart and want to highlight certain values within the chart to make them stand out (like Q2 & Q3 results), then an Area Chart will be needed.
Want to know how to create an Area Chart?
*** Watch our video and step by step guide below with free downloadable Excel workbook to practice ***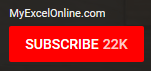 To do this there are a few steps to follow:
1. Enter the Line Chart for the 12 months of sales;
2. Enter the values you want to highlight on a separate column next to the sales;
3. Click on the Line Chart and drag the blue line that is in the sales column to include the new column (in point 2);
4. Click on the chart and go to Chart Tools > Layout > Select Series 2;
5. Go to Chart Tools > Design > Change Chart Type > Area Chart;
6. Right click in the Area Chart and format it to your liking with a light color.