When you are using a Pivot Table in Excel and want to know what data makes up a certain value, all you have to do is double click on that cell.
This will open up a brand new Sheet with all the rows of data that make up that value.
NB. This is an extraction of your data source, so if you edit the information and Refresh your Pivot Table then nothing will happen.  Any changes need to be made in your main data source.
If you want to get rid of this sample data, all you have to do is press CTRL+Z and press DELETE in the pop up pox.
So go ahead and double click on any values (including SubTotals and GrandTotals) within your Pivot Table to view the data that makes up your selected value.
STEP 1: Double click on any value cell within the Pivot Table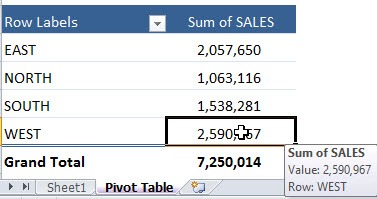 This opens up a new sheet with the data that makes up the selected cell.

HELPFUL RESOURCE: