Want to know how to add chart marker options in Excel?
*** Watch our video and step by step guide below with free downloadable Excel workbook to practice ***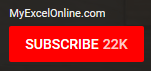 The Marker Options within an Excel chart enables you to add different marker types or shapes on your chart to distinguish a data series or its individual data points.
To bring up the Marker Options you need to click on your Excel chart and make sure that all the points are selected.  Then press CTRL+1 to bring up the Format dialogue box and within there you can choose to style and format the Markers to your liking.
You will need to play around with the different Marker styles and combinations to get your desired result but you can have lots of fun with this.
HELPFUL RESOURCE: