Want to know How to Conditionally Format Blank Cells in Excel Pivot Tables?
*** Watch our video and step by step guide below with free downloadable Excel workbook to practice ***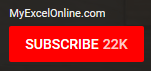 Inserting a Pivot Table is very easy to do in Microsoft Excel: Inserting a Pivot Table
Adding some Conditional Formats to the Pivot Table allows a user to highlight key data in a split second.
See how easy it is to add some color to your analysis.
Helpful Resource: