When the information in your data set gets updated you need to Refresh your Pivot Table to see those changes in your Pivot Table.  There are three ways to do this.  First click on your Pivot Table and:
1. From the Ribbon choose: PivotTable Tools > Options > Refresh
2.Press ALT+F5
3.Right click in your Pivot Table and choose Refresh (see this option below)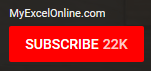 DOWNLOAD EXCEL WORKBOOK
STEP 1: Change the information in your data set.

STEP 2: Click in the Pivot table.

STEP 3: Right click and select Refresh.

The Pivot Table values are now updated!

Helpful Resource: