Large numbers in Excel can be formatted so they can be shown in "Thousands" or "Millions".
By using the Format Cells dialogue box shortcuts CTRL+1, you will need to select CUSTOM and then enter one comma to show Thousands or two commas to show Millions.
You can even add some text in your cells by entering any word within the quotation marks " your word ".
Here is an example:
#,##0, "ths"
#,##0,, "mills"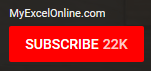 HELPFUL RESOURCE: