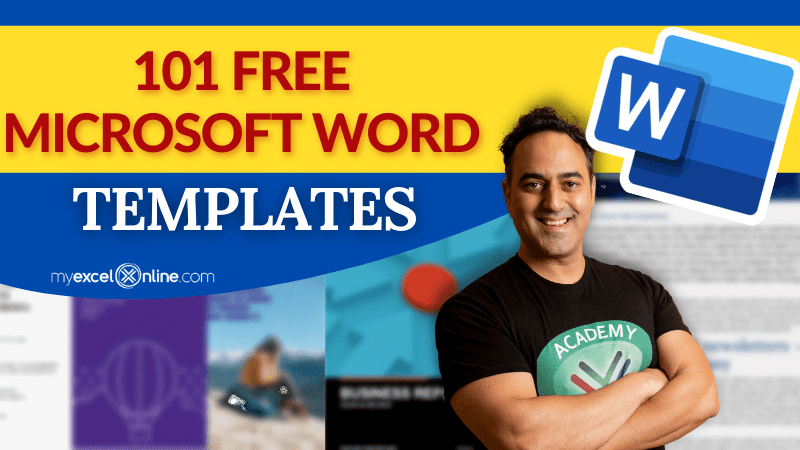 Microsoft Word is a powerful office productivity application used by millions of people in their day-to-day life. It is easy to use and provides users with a platform to create and edit documents like reports, letters, resumes, business plans, and much more.
Watch this video for tips on How to Get Microsoft Word for Free!
In this article, there are 101 Free Microsoft Word templates divided into 5 categories with a brief description and a direct download link. You can bring your ideas to life by using these free word templates. There will be no need to invest hours in creating documents on Microsoft Word from scratch.
You can simply download 101 free Microsoft Word templates and customize them as per your requirement:
Watch our free training video on how to get Microsoft Word for FREE
Let's look at each of these templates and download them:
Business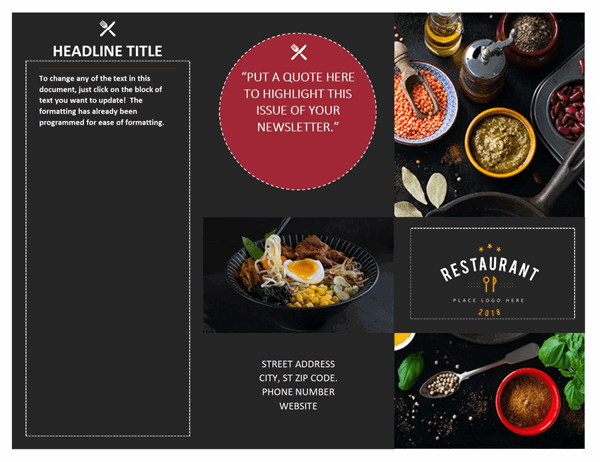 This template will help in promoting restaurant, food, or hospitality business.
You can customize the template with your images, restaurant name, address, and contact.
You can add your own menu with images of the dishes along with descriptions.
Pre-designed template to add bulk labels for print.
It saves a lot of time, when are you sending a personal letter, greetings, holiday cards and much more.
It makes the package look much more professional.
3. Business Email Marketing Template
Email newsletters are an effective, low-cost method to generate more business without involving mailing or printing costs.
Use this template to send your customers emails that matter to them and stay in touch with them.
You can create a basic template reflecting your company's look by changing color and adding logo, business address, phone number, website.
This startup checklist will help you get your small business off the ground.
It helps to break down the process of launching a startup into manageable chunks.
From evaluating company prospects to planning and preparing for marketing and launch, it covers all.
5. Phone Script for Small Business
With this easy-to-use template, you can create a phone script for any sort of business.
Add your logo on the top-right corner
Make a comprehensive home-based business plan with this template.
An executive summary, a firm overview, a market study, a financial strategy, and more are all included.
Use this template for an understandable, readable & realistic business plan for your healthcare business.
This template contains 7 sub-plans – Executive Summary, Company Overview, Business Description, Market Analysis, Operating Plan, Marketing and Sales Plan, and Financial Plan.
You can add your logo on every page of this template.
Ready to use business report that can be used for several purposes – for pitching an idea, analyzing an opportunity, etc
This 9-page template will help in quicker decision-making with sections for factual, statistical, and research data.

Gift certificates are a thoughtful way of maximizing brand visibility and converting new customers.
It's a template used to increase customer loyalty and brand awareness.
Your company logo at the top can be added.
You can customize the "To", "From" and expiry date in the gift certificate easily
10. Employee Evaluation and Wage Review
You can use this template for the assessment and review of an employee's job performance.
You can use the rating system to score the employee's performance and understand whether he/she exceeds, meet, or needs improvement based on the company's expectation.
11. Small Business Content Calendar
This template is the best way to plan and organize upcoming content.
It helps in sharing content consistently so that customers have you in mind when they're ready to make a purchase.
Add your logo at the top right of the template.
12. Healthcare Market Analysis
Market analysis is a critical part of any business plan and it gives an entrepreneur a greater idea of the market's size and specific segments of a market.
The template includes a SWOT (Strengths, Weaknesses, Opportunities, and Threats) Analysis.
13. Agreement to Receive Electronic Communication
An agreement to receive electronic communication form is used to gather permission from clients or patients to transfer information electronically.
You can replace the placeholder logo with your own logo.
Any healthcare company can use this template to set up an accessible payment agreement with their patients.
It can be used to define your company's policies and create a payment plan.
You can also include the name of the doctor, cost of treatment, insurance coverage, and remaining payment agreements.
Use this template to create engaging, beautiful, and professional brochures for your construction company.
You can easily change the text of any section in this document by simply clicking and typing. The template is prepared so that formatting stays intact with the new information you include.
You can customize this brochure using your company's logo, company details, own images, fonts, and colors.
Help your customers plan their dream vacation and promote your business by using this tri-fold travel brochure.
It features details related to your travel, attractive photos, an eye-catching color palette, and bold text that are fully editable.
It is a perfect marketing tool and will help grow your business exponentially.
Elevate your party and entice your guests by using this personalized menu card.
You can divide the menu into 3 courses – Salads. Main Course and Desserts and add food items under each of these courses.
You can use this template for any dinner party, food catering business, or any other special occasion.
18. Financial Business Postcard
You can really capture your recipient's attention and delight them with personalized direct mail by sending custom postcards for business marketing.
Sending business postcards to reach an intended and target audience.
You can easily customize the template with your own logo, address, and contact information.
19. Travel Expense Report Form
Use this template to create a travel expense report for reimbursement of travel expenses.
You can easily categorize your expenses as needed.
This template is useful to employees and companies where the travel expenses are reimbursed on an actual basis.
You can mention trip hours and details of expenses along with the amount in the template.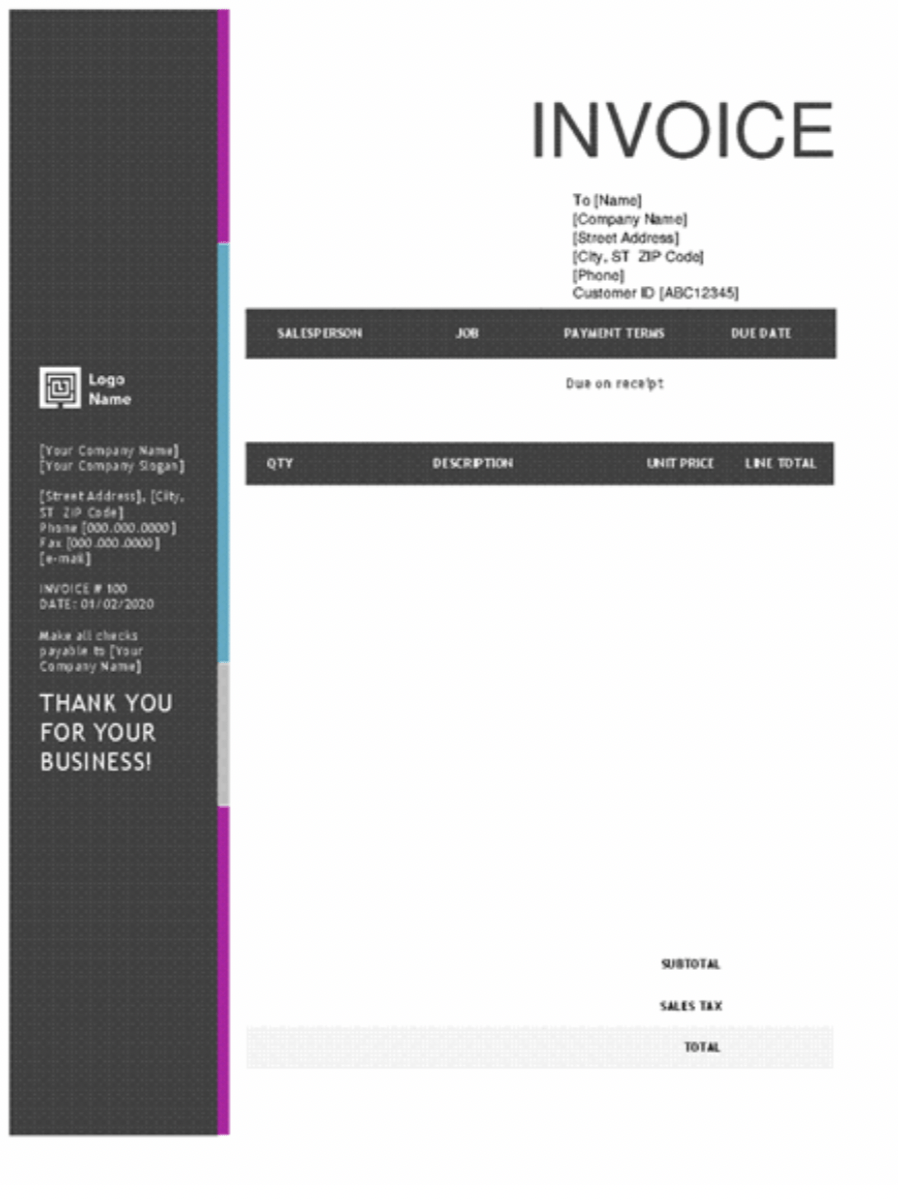 Create an itemized sales invoice with multiple items, quantity, description, unit price, and line totals.
You can customize the template with your logo, company name, address, and contact information.
There is a space for invoice numbers and for billing details of the purchasing company.
There is a separate place to add shipping address and details.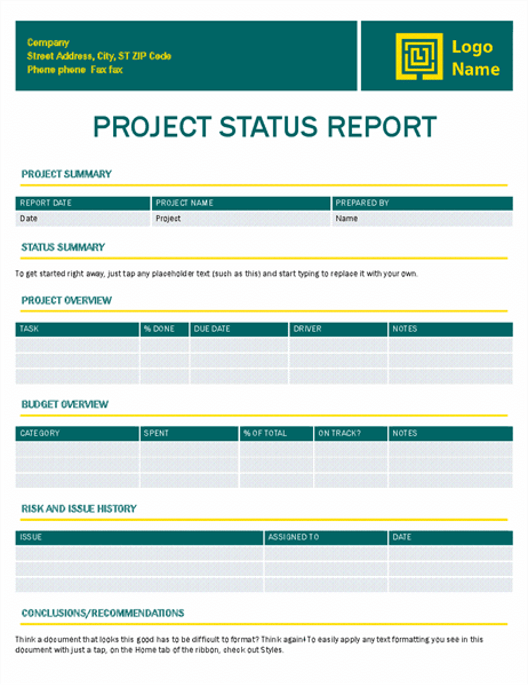 This template describes the progress of a project within a time frame and compares it with the projected plan or budget.
It can be used to provide your stakeholders with an update on the project status.
You can insert the details related to the

Project – Task, % Completed, Due Date, etc.
Budget – Category, Amount spent, % of Total Budget spent, etc.
Risk – Issue, Assigned To, Date.
22. Real Estate Business Envelope
When someone receives something in the mail, the envelope is the first thing they will see.
You can add your own logo and change the colors to customize the design.
23. Physical Inventory Count Sheet
Use this template to keep a track of your physical inventory being an essential part of keeping inventory records accurate and current.
It includes inventory number, item description, purchase price, quantity, and location
With this template, you can use the most commonly used written tool of internal communication – Company Memo.
It includes company name, address, telephone, website, recipient, from, and notes fields.
You can change colors, logo, contact information, address, and other fields easily.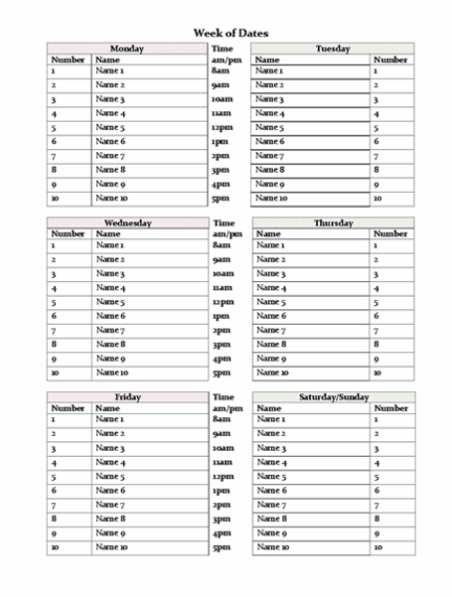 Keep track of your weekly appointments by using this weekly appointment template.
You can insert all information related to your appointment including serial number, name, and time for all days of the week.
Use this template to capture feedback from diners for the restaurant service which helps in future improvements.
Customers can be asked to rate the overall experience, quality of food, cleanliness, ambiance, etc.
Company or restaurant name can be added at the top.
Cards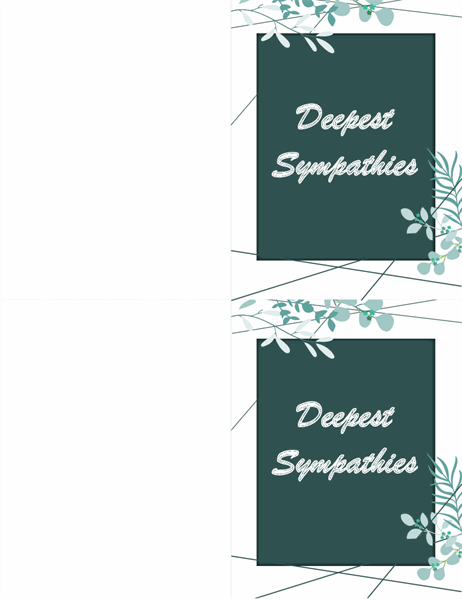 Use this sympathy card to best wishes to your loved ones at a difficult time.
You can change color or font to personalize this card as well.
This template contains a two-sided card with dimensions –  4.25 x 5.5 inch (A2 size) cards per page.
Congratulate your favorite graduate on their achievement with this personalized card.
This template prints one card per page and features flying caps and degrees.
You can add the student's name and a customized message as well.
Show your appreciation to someone by using this free customizable thank you card.
You can use this floral thank you image or replace it with your own image. You can even insert a personalized message in the space provided.
This template prints two 4.25 x 5.5 inch (A2 size) cards per page.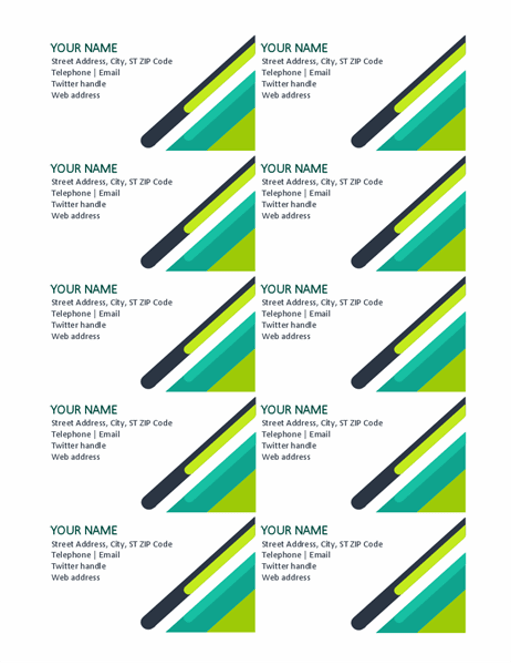 Customize and design your business cards with our premade Business Card Template.
Easily editable colors, name, address and contact details.
 Print 8 Business Cards in a page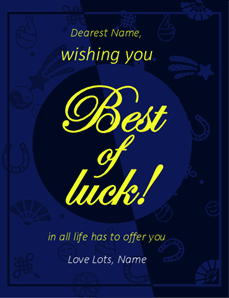 Boost morale in style with a beautifully designed and readily printable good luck card.
In this template you can easily change the names wherever required.
Don't worry about reading complex instruction manuals to create stunning happy birthday cards and use this template.
Fonts, colors and text can be customized easily.
Use this versatile template as a perfect tool to get the message across in style.
Cards fonts, text, colors can be changed as per occasion and choice
It includes 3 design variations to choose from
Design tickets for concerts or events with an ease.
Change the name of event, font and color of the ticket in the template.
Ten tickets can be printed per page.
Impress your special one with a personalized Valentine's Day card.
Easy to edit template allows change in text, color and font.
Each template will print two such cards.
Wish everyone New Year with this Lunar New Year card template.
It's a Half fold (A9) card template.
Use this template to design your own unique and exquisite save the date invitation card.
Completely editable template for best personalization. When you replace text in one card, the other card will update automatically.
Every template page will print two such cards.
38. Baby Shower Invitation Card
Use this template to share the joy with loved ones by planning a stylish baby shower for the mom-to-be.
Instantly customizable baby shower invitation with easy to change – name, date, time, address and other baby shower information
With this Thanksgiving card template – show your love and gratitude to your family and friends featuring an adorable turkey.
This templates prints two cards per page.
Greet your friends and family with a creative, personalized and beautiful Hanukkah card.
Template has three variations to choose from including a dreidel and menorah.
Each page will print two cards.
Easter is such a beautiful holiday because it represents new life and marks the beginning of Spring, use this card to greet your loved ones.
You can include a personal message and customize the card as per requirements.
It's a one per page – double sided card
Hosting a party? Use this template to send the invites.
Personalize this party flyer with font, date, address and other details.
Grab the attention of potential home buyers by using this template for an open-house event.
You can include logo, font, colors, property name, event name, text about the event, image collage of the house, event date-time, address, website url, and contact information.
Personalize this modern and professional sales flyer template to promote products or services.
Easily customize the template with discounts, date, time, venue, offers and terms of the offers.
It's a cost-effective tool to reach out to the potential customers.
Publicize about a basketball tournament with an impressive flyer.
Font, Color, date, time and description can be easily changed.
Using this amazing template design, invite everyone to witness the major football or soccer game.
Customizable elements like font, colors, name, time, venue, team names, and description included in the template.
Customizable music flyer designs can be tailored to any musical event, whether it's a large concert or a small acoustic session.
Personalize the flyer by exploring different fonts and colors on the design tab.
Event Name, date, time venue, key event information can be edited as needed.
Background Image can be changed as well.
Use this eye-catchy template to attract voters towards the campagin.
Party name, date, time, venue and brief description can be easily incorporated.
49. Elementary Graduation Flyer
Celebrate the joyous occasion of elementary graduation with this bright and beautiful template and make a wonderful end of year keepsake.
This template is editable you can personalize fonts, colors, school name, address, date, time and description.
The summer flyer template is ideal for promoting a summer camp session or for organising an outside party with friends & colleagues.
You can easily customize this with event location, date and time. Description about the event, and title can be changed as well.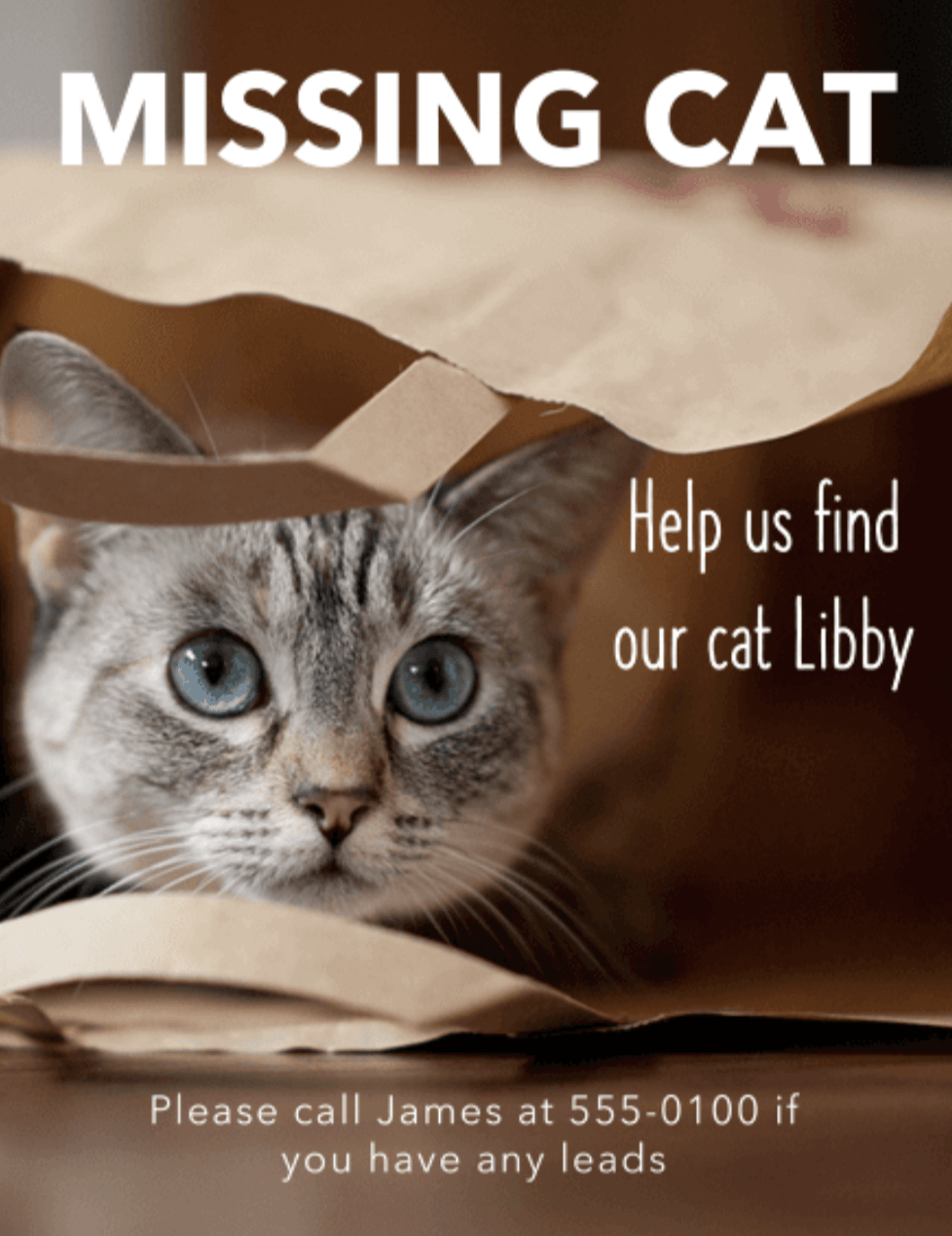 This missing pet flyer template simplifies the process, giving you less to worry about during a difficult moment.
Replace the image with a recent photograph of the missing pet, contact information and pet's name, then print or digitally export and distribute this flyer template.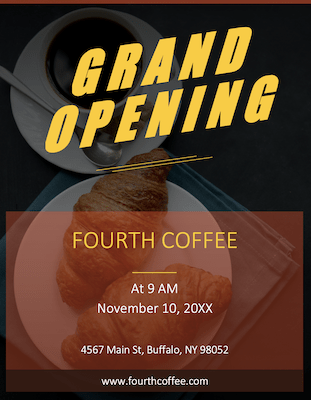 Give your top-notch business the the head start it deserves.
This template makes it simple to include your company's name, time, and any other information as required.
One Flyer can be printed per page
When it comes to successful advertising of your award event, nothing beats a stylish award flyer.
Within this award show event flyer design, all text fields are editable. Personalize and modify this award show flyer template to meet your specifications.
Get started with your financial business promotions with this complete word template.
Personalize this flyer with your own picture, services you provide and details about the business.
Easily include your own logo, contact information, address and website details.
Attract potential clients instantly with a comprehensive real estate flyer template and reach out them through multiple mediums: email, social media, postal mail, and more.
Customize the template with complete information – with property pictures, expected price, list of amenities, address, description, contact details and company logo.
Dog Walker Flyer Templates will come in handy offers dog walking services.
This editable template is easy to use and allow you to modify the text, font, images, and add your company logo or other photographs and information.
57. Healthcare Provider Introduction Letter
Spread the words about a new healthcare providers to your patients.
Ready to use template, just fill in vital information like Doctor's Name, background, credentials, address, etc
58. Health Benefits Expiring Letter
Remind your clients and patients about the insurance benefits expiring soon.
Customize this letter template with your own logo, name and other information.
59. Healthcare Provider Relation Letter
Use this template to request for changes in contract or agreement for the next contractual term aimed towards the provider relation representative.
Replace the parts of the letter as desired to include your terms, details of contract, address, phone number and website.
60. Healthcare Follow Up Letter
Reach out to your existing patients who have missed or cancelled appointment using this healthcare follow up letter template.
You can personalize this letter with your logo, patient's name, patient's address, terms of the care, provider name and others very easily.
61. Insurance Termination Letter
Use this letter to inform your patients about termination of the insurance coverage change in insurance network participation with your healthcare insurance company.
Include the change in costs for your client / patients due to this termination using this template.
Customize this template by replacing the logo, filling the blanks and adding information wherever required.
62. Unscheduled treatment letter
Remind the patient or client about an unscheduled treatment form with this pre-formatted letter.
Personalize the letter by adding your own logo, filling in the blanks, staff-doctor's name and email address.
A letterhead is just as significant as a brand in that it represents a company and gives potential customers a first impression.
Use this bold geometric designed letterhead for all your business communications.
This template has prompts for where to insert names and addresses, a personalized logo, the body of the letter, and more.
To deliver all of the necessary information over fax, utilise this contemporary fax cover template.
We think it makes a statement as is, but you may simply switch out fonts or colors, even add your logo.
With a fax cover sheet printable, you can quickly create a personalized fax cover for your company.
65. Letter of Resignation from Board
Use this pre-formatted template to tender resignation from the Board.
Replace the placeholder details with your own.
This letter is formal, gracious, and professional.
66. Thank You Letter for Successful Job Reference
This simple letter will help to show your gratitude towards your former boss for the job reference.
Above word template also mentions an invitation to the former boss to meet for a coffee and discuss about first week on the job.
67. Reference Letter for Professional Employee
If someone who works for you is moving to a new city or looking for a new opportunity, she or he may request a professional reference letter.
This letter can be helpful during the job application process, whether the employee is moving to a position in a different division of the same company or to an entirely new employer.
Personalize this letter by replacing the placeholder text with yours.
68. Reference Letter from Teacher
Use this template to provide a reference letter to any student for submission for employment or higher studies.
This template includes logo, name, email, address, telephone and website as additional information to the letter can be easily replaced and altered.
69. Thank You Letter for Personal Gift
Acknowledge and appreciate gifts received through a pre-formatted letter using this template.
Replace the Name, Address and contact of sender and received as required.
70. Letter of Resignation due to conflict with boss
Replace the Name, Address and contact of sender and received as required.
The resignation letter template explains the reason of leaving, specifies an end date, and assists in transitioning job duties to another employee and other details.
71. Letter to Professor requesting Job Recommendation
Use this pre-formatted letter of recommendation from a professor can help a student stand out from other candidates when they apply to a job.
Change the Name, Address and contact of sender, fine-prints of the letter as required.
72. Letter of Resignation due to Merger
With this word template professionally communicate that you intend to leave your position due to of merger of the company.
Personalize this letter with your customized sender address, receiver address, details within the letter and name.
73. Letter of Resignation due to Retirement
Resignation due to retirement letter, contrary to the belief that it is an informal farewell letter, requires attention to detail and a professional tone.
This template just requires changes as needed in the addresses and body of the letter.
74. Letter requesting Informational Interview
Whether you want information and guidance about an industry or a profession, or you want to utilise the meeting as a networking opportunity, this sample letter template requesting an informational interview can help you get the face-to-face appointment.
Modify this letter with your own sender address, receiver address, letter body, and other details.
75. Letter to Job Applicant Confirming Receipt
Use this sample letter template to help you write your own letters informing worried candidates that their application and CV have been received.
Simple changes in the template like addresses and specific information in the content will do the job.
76. Tenant's notice exercising option to renew lease
Send notice of exercising option to renew lease to the landlord in a professionally written notice.
This pre-formatted template of notice exercising option to renew lease requires minimum changes.
77. Technology Business Envelope
The most significant advantage of business envelopes is that they serve as a concealed advertising tool. Your envelope may rapidly express your company's brand message, colour, logo, and so on.
Replace the placholder logo, text, colors and fonts with your own as per your requirements.
As a recent graduate or student, you may not have a lot of paid work experience. However, there's still plenty of information to highlight on your resume.
 This template contains suggestions and placeholders for specific information about your schooling and achievements. Students may emphasise their soft talents, service, and more by using this college resume template.
This chronological resume template can assist you in creating an attractive resume or CV that highlights your work experience.
Easily modify the template with your fonts, colors, names, experience, education, skills & activities.
When job hunting, it's usually a good idea to have a list of references ready to give to hiring managers.
It's also a good idea to ask your references for permission to use them and to let them know they could be contacted.
Edit the template wherever required from name, contact details, insert reference information etc.
81. Cover Letter in response to ad
Send this professional looking cover page with the resume for a new job post.
Replace addresses, content, and other as needed.
82. Cover Letter for unsolicited resume
A job seeker may wish to work for a firm that does not have any open job postings. In this scenario, an unsolicited application letter is used to inquire about prospective positions and to catch the attention of a hiring manager.
Personalize this letter with your own sender and receiver's address, fine prints of the letter and salutation.
83. Cover Letter for entry-level resume
Writing a cover letter when you have no experience is difficult.
It is OK to highlight non-work related experience in your cover letter if it is relevant to the position.
All, interviewers for entry-level roles are aware that this is likely to be your first job.
84. Resume for internal company transfer
Internal resumes, as opposed to regular resumes, focus on your path within the company.
Internal accomplishments and talents relevant to your company are the focus of all of your internal resume material.
Easily change fonts-colors and add your own content for sections accomplishments, skills & abilities, professional experience & education.
Activity experience, volunteer work, and academic achievements should all be included on a college student resume.
Relevant abilities, extracurricular activities, and interests should also be included.
86. Modern Chronological Resume
This resume template you will see your present work history in chronological order, with your most recent employment at the head of the section.
This excel template is completely customizable from fonts, colors and content
87. Cover Letter for Temporary Position
A well-written cover letter communicates to the company that you are enthusiastic about the position and believe you would be an addition to the team.
Can be easily modified as per requirements from address, text and letter body content.
88. Cover Letter when Referred
When a coworker or supervisor refers you to a position, use this cover letter template.
Personalize this letter with your own sender and receiver's address, fine prints of the letter and salutation.
Use these attorney resume template to help you format and write your resume so that it stands out to potential employers.
This template can be customized from fonts, color, text content and attorney name.
The store manager is responsible for a wide range of tasks, from hiring to budgeting.
Use this professionally created template to be considered for a position as a store manager, as your CV must demonstrate that you are prepared for the difficulties that lie ahead.
Modify this modern word template to your likings from fonts, colors, name, address & contact section.
The content has been split into three sections – experience, education & key skills & characteristics.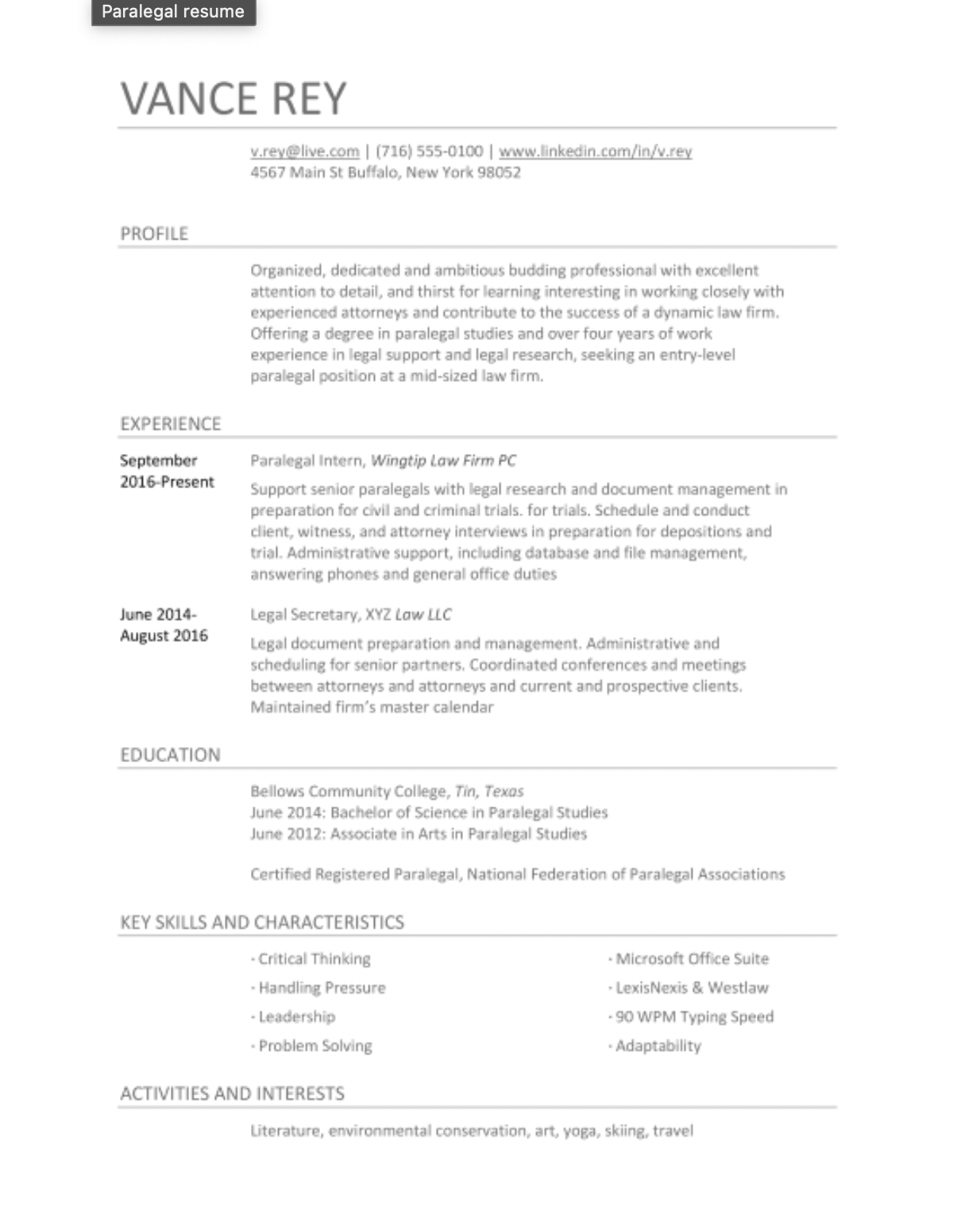 Use this paralegal word resume template to showcase knowledge of common laws, the legal system, convey your confidence and qualifications to employers, highlighting your ability to communicate professionally.
The template is split into profile – small description about you, experience, education history, key skills and activities.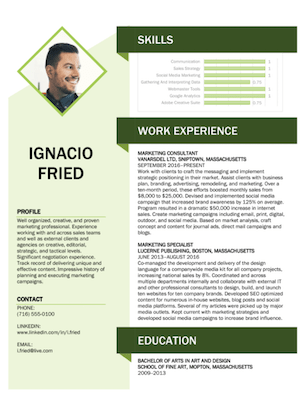 Use this modern marketing resume template that will land you an interview.
Easy to edit and customize as needed – from picture, name, profile description, contact information in the left sidebar to skills, experience and education.
Use this template to broadcast your excellent communication, interpersonal skills, HR certifications or training received.
This customizable template can be modified completely from fonts, to text to colors.
To be a standout candidate for in-demand jobs, it helps to have a comprehensive accounting resume like this template.
Begins with an engaging accountant resume summary, which may serve as a replacement for the standard resume goal.
Edit the name, contact information and resume content as desired.
Resume includes space to add noteworthy accomplishments to illustrate why you are such a great asset to any organisation.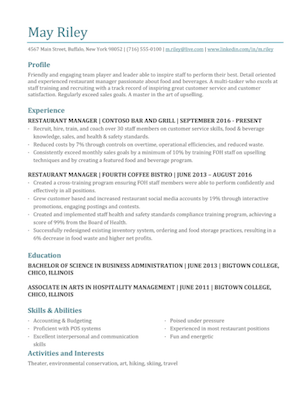 This template of restaurant manager resume showcases your experience, your strengths, and why you're the right candidate for the job
And shows yours ability to develop a strong restaurant staff, create effective marketing campaigns and maintain a clean and desirable location.
Easily make changes in the template from fonts, colors, text etc.
Multiple focussed sections have been used in this template, namely – profile, experience, education, skills and activites.
Add your profile shot photograph in the template replacing the placeholder.
Use the section with infographics displaying your skills.
Line icons have been used for the contact information, location & education
97. Hospitality Manager Resume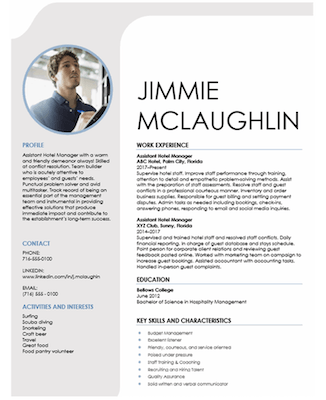 A good Hospitality Manager resume template like this demonstrates leadership, problem-solving mindset, managerial abilities, customer service skills and organization.
Replace the picture, profile description, contact information, experience, education and key skills as needed very easily.
Use this template to emphasize your abilities in the areas of leadership, productivity, organisation, quality assurance, and customer service being vital for a office manager role.
Template with a professional format helps in increases opportunities.
This functional resume is a resume format that emphasises abilities over experience. Rather of concentrating on a chronological review of your job experience, the goal of a functional resume is to attract attention to transferrable skills.
The template can be easily edited with your name, address, contact, objective, education and space for functional description.
100. Modern Resume with QR code
Using this modern template a HR can just check your resume by scanning QR Code with their smartphone to gain fast access to your name, logo, contact details, LinkedIn URL, website, online portfolio, a copy of your resume, and any other information you want them to view.
You can Customize all areas of the template from QR code, colors, fonts, text and different sections of the resume.
If you're wondering how to construct a resume, this columns resume template arranges your information into a simple grid that can be swiftly reviewed.
The Name of the person, contact information, skills, education, profile, and experience can be easily amended.
You can use these Microsoft Word templates even if you have a basic understanding of MS Word. It is a great way to increase your output and efficiency as you will not have to create one from scratch.
Simply click on the link below to instantly download all of these 101 Free Word templates free and choose the one appropriate for you!
Click here to download 141 Free Excel Templates that you can use and customize!
Also, make sure to download our FREE PDF on the 333 Excel keyboard Shortcuts here: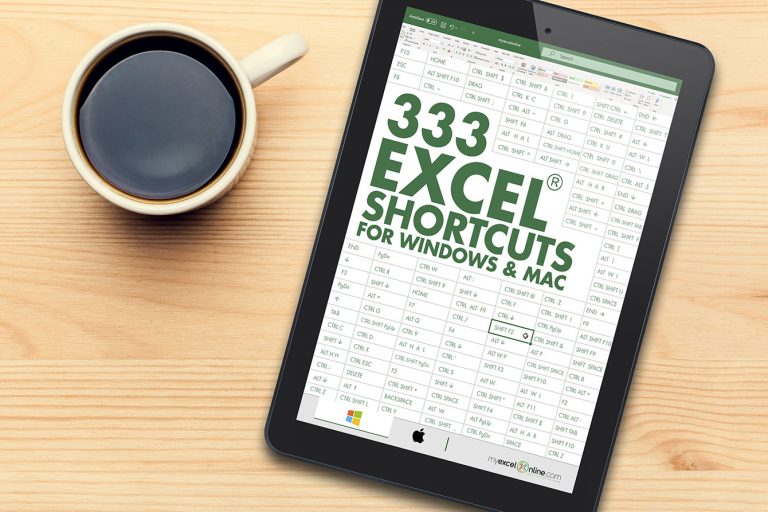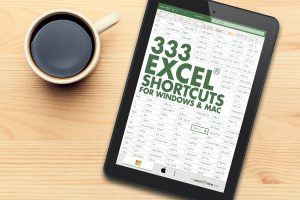 You can learn more about how to use Excel by viewing our FREE Excel webinar training on Formulas, Pivot Tables, and Macros & VBA!